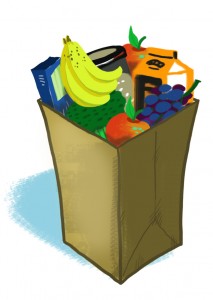 My Coupon Database searches dozens of sites for all grocery and drugstore coupons available. New coupons added weekly!
ShopRite – Living Rich With Coupons posted this week's ShopRite coupons. Highlights include Earthbound Farms Salad for as low as $0.49 after stacked coupons, Kind Bar for as low as $.25 after coupon, Barilla Pasta for as low as $.33 each after coupon when you buy 2, and Wish-Bone Salad Dressing for as low as $.66 after coupon.
Kroger – Faithful Provisions shares this week's Kroger grocery coupons, including TRESemme Shampoo, Conditioner or Styler for as low as free Styler when you buy shampoo or conditioner, Smart Balance Spread or Butter Blend for $.24, General Mills Treats for $.49, Speed Stick or Lady Speed Stick $.49.
Publix – Southern Savers posted this week's Publix grocery coupons. Highlights include Ken's or Sweet Baby Rays Marinade & Sauce for $.49, Peter Pan Peanut Butter for $.74, General Mills Cereals for $.39, Betty Crocker Potatoes for $.69, Valley Fresh White Chicken for $.54, and French's Worcestershire Sauce for free.
Albertsons – Get the full list of Albertsons coupons later today.
Ralphs – Get all the Ralphs coupons later today.
Winn Dixie – A Few Shortcuts shares Winn Dixie grocery coupons for this week. Highlights include Prego Pasta Sauce for $1.42, Sanderson Farms family pack chicken thighs, drumsticks or leg quarters for $1/lb, and Pasta or Rice-a-Roni for $.95.
Safeway/Vons – Get all the Safeway/Vons coupons and deals later today.
Whole Foods – Get Whole Foods coupons later today. Our tips for saving money at Whole Foods.
Stop & Shop – Look for this week's Stop & Shop coupons on Friday, the beginning of their sale cycle. Or shop by Thursday for this week's sale, including Welch's Fruit Snacks for as low as $0.67 each after coupon, Mclihenny Tabasco Sauce for free after coupon, Breyers for $1.50 each after coupon, and Ivory Hand Soap for as low as $0.30 each after coupon.
Fresh n Easy – The Deal Fanatic posts this week's Fresh n Easy grocery coupons later today.
Harris Teeter – This week's Harris Teeter grocery coupons will be up later today.
Wegman's – This week's Wegmans coupons and deals include Wegmans Ice Cream for $1.29, Cascadian Farm Organic Granola Bars, Kid-Sized, Peanut Butter Chocolate Chip for $.49, Yoplait Frozen Smoothie for $1, and Bailey's Coffee Creamer for $.89.
Trader Joe's – Healthy Life Deals shares this week's Trader Joe's deals later today.
Giant Eagle – This week's Giant Eagle deals will be up later today.
NEX – Military Wives Saving posts the best grocery deals at the Navy Exchange each week.
Grocery coupons – Get the latest grocery coupons from Coupons.com.
Redplum coupons – Get the latest coupons from Redplum.
New to coupons? Check out Bargain Babe's post on coupon clipping basics. If you want to take advantage of these deals, make sure to save the coupon inserts you receive in the mail or with your Sunday newspaper. Here's a great suggestion for how to handle coupon organization.
This post is copyrighted by BargainBabe.com. Any other site posting this content is violating the DMCA.