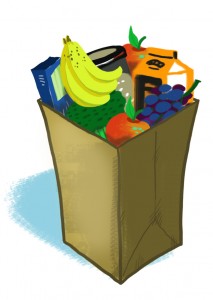 My Coupon Database searches dozens of sites for all grocery and drugstore coupons available. New coupons added weekly!
ShopRite – Living Rich With Coupons posts this week's ShopRite coupons including EarthBound Farm Salads for as low as free, McIIhenny Tabasco Pepper Sauce for as low as free, French's Mustard for as low as $.39, and Herr's Pretzels for as low as $.97.
Kroger – Faithful Provisions shares this week's Kroger grocery coupons including free Colgate Toothpaste or Toothbrush, Smart Balance Spread or Butter Blend for $.89, Quaker Chewy Granola Bars for $.79, and Kraft Salad Dressing for as low as $.49.
Albertsons – Get the full list of Albertsons coupons including Starkist Chunk Light Tuna or Tuna Salad for free if you have four coupons, White Corn for $.33, Kellogg's Cereal for $1, Fanta, Mello Yello, or Seagram's 2 liter for $.67, and Ronzoni Pasta for $.50.
Publix – Southern Savers posted this week's Publix grocery coupons. Highlights include Bumble Bee Premium Albacore Tuna for $.94, Daisy Sour Cream for $.69, Mt. Olive Sweet Relish or Pickles for $.19, Kraft Barbecue Sauce for $.89, and Post Honey Bunches of Oats or Vanilla Clusters for $.95.
Ralphs – Get all the Ralphs coupons later today.
Safeway/Vons – Get all the Safeway/Vons coupons and deals later today.
Winn Dixie – My Baton Rouge Mommy shares Winn Dixie grocery deals. Highlights include Sanderson Farms whole chickens, family pack drumsticks, thighs or leg quarters $0.89/lb (Limit 2), Ronzoni past for $.95, Mott's apple juice for $.50, and Mt. Olive relish or pickles for as low as $.25.
Whole Foods – Get Whole Foods coupons later today. Our tips for saving money at Whole Foods.
Fresh n Easy – The Deal Fanatic posts this week's Fresh n Easy grocery coupons later today.
Stop & Shop – Look for this week's Stop & Shop coupons on Friday, the beginning of their sale cycle. Or shop by Thursday for this week's sale, including Barilla Blue Box Pasta or Del Monte Canned Tomatoes for as low as $0.45 each after coupon when you buy 2 boxes pasta, Suddenly Salad for $.56, Yoplait Yogurt Original, Thick and Creamy, Light or Whips for as low as $0.36 each after coupon, and Nestle Coffee-Mate Liquid Creamer for $.56 after coupon.
Wegman's – This week's Wegmans coupons and deals will be up later today.
Harris Teeter – This week's Harris Teeter grocery coupons will be up later today.
Trader Joe's – Healthy Life Deals shares this week's Trader Joe's deals, including Applegate Farms Smoked Turkey for $2.69, Rudi's Organic Hot Dog Buns for $2.24, Clif Mojo Bars for $.44, and Country Choice Steel Cut Oats for $2.24.
Giant Eagle – This week's Giant Eagle coupons and deals will be up later today.
NEX – Military Wives Saving posts the best grocery deals at the Navy Exchange each week.
Grocery coupons – Get the latest grocery coupons from Coupons.com.
Redplum coupons – Get the latest coupons from Redplum.
New to coupons? Check out Bargain Babe's post on coupon clipping basics. If you want to take advantage of these deals, make sure to save the coupon inserts you receive in the mail or with your Sunday newspaper. Here's a great suggestion for how to handle coupon organization.
This post is copyrighted by BargainBabe.com. Any other site posting this content is violating the DMCA.