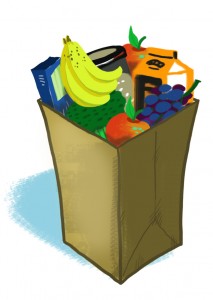 Check out this week's online coupons below to save money on groceries.
Ralphs – The Ralphs prices assume coupon doubling up to $1. Get all the Ralphs coupons later today. Our tips for saving money at Ralphs.
Safeway/Vons – Saving Cents with Sense shares the Safeway/Vons coupons. Highlights include cantaloupe for $0.77 each, Duncan Hines Cake or Brownie Mix for $0.99, and Betty Crocker Fruit Snacks for $1 when you buy two. 
Albertsons – Save at Home Mommy shares this week's list of Albertsons coupons. Highlights include Francesco Rinaldi Pasta Sauce for $0.99, Popsicle Novelties for $0.99, and Knudsen Sour Cream for $1.
Whole Foods – Get Whole Foods coupons later today. Our tips for saving money at Whole Foods.
Publix – Southern Savers posted this week's Publix grocery coupons. Highlights include Skippy Peanut Butter for $0.24, Skippy Peanut Butter for $0.74, and Batter Blaster Pancake & Waffle Batter for 59¢ if your store accepts Whole Foods coupons.
ShopRite – Living Rich With Coupons will post this week's ShopRite coupons later today.
Fresh n Easy – The Deal Fanatic posts this week's Fresh n Easy grocery coupons. Highlights include F&E Strawberries, 2 lbs. for $3 when you buy multiples of 2 and Breyers Ice Cream are buy 1 get 1 free!
Winn Dixie – My Baton Rouge Mommy shares Winn Dixie grocery coupons for this week. Highlights include Herbal Essences shampoo, conditioner or styling products for $1.50, Smart Ones for $1.60, and WD sour cream for $1.
Stop & Shop – Look for this week's Stop & Shop couponson Friday, the beginning of their sale cycle. Or shop by Thursday for this week's sale, including Barilla Pasta for as low as free, Better Oats Oatmeal for as low as free, and Dannon Light & Fit Yogurt 4 Pack for $1.
Kroger – Faithful Provisions shares this week's Kroger grocery coupons, including Hamburger, Tuna or Chicken Helper for $0.75, Dove Deodorant for $1, and Kashi Organic Promise Cereal for $1.50.
Wegman's – This week's Wegmans coupons and deals include Goldfish Crackers for $0.59, Stayfree Ultra Thin Pads for $0.99, and Bar-S Jumbo Franks for $0.49.
Harris Teeter – This week's Harris Teeter grocery coupons will be up later today.
Trader Joe's – Healthy Life Deals shares this week's Trader Joe's deals, including Rudis Organic Hot Dog Buns for $1.99, Kashi TLC 7 grain Crackers for $0.79, and TJ 100% Whole Wheat Flour for $2.99. Our tips for saving money at Trader Joes.
Giant Eagle – Lady Savings posts this week's Giant Eagle coupon deals. Highlights include free Sensodyne Toothpaste, Reynolds Wrappers for $0.50, and Texas croutons for $0.56.
Grocery coupons – Get the latest grocery coupons from Coupons.com.
Redplum coupons – Get the latest coupons from Redplum.
New to coupons? Check out Bargain Babe's post on coupon clipping basics. If you want to take advantage of these deals, make sure to save the coupon inserts you receive in the mail or with your Sunday newspaper. Here's a great suggestion for how to handle coupon organization.