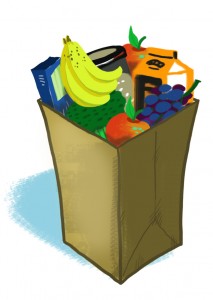 My Coupon Database searches dozens of sites for all grocery and drugstore coupons available. New coupons added weekly!
Albertsons – Get the full list of Albertsons couponsincluding Foster Farms Chicken or Turkey Franks for $1.25, Large Nectarines for $.99/lb, Bailey's Coffee Creamer for $.95, and Chobani Greek Yogurt for $.70.
Publix – Southern Savers posted this week's Publix grocery coupons. Highlights include Betty Crocker, Sunkist, Mott's or Ocean Spray Fruit Flavor Snacks, 4.5-8 oz for $.94, Colgate Toothpaste for $.44, Scotch Scissors for $.44, Puffs Plus Facial Tissues for $.75, Elmer's School Glue for free, Elmer's School Glue Sticks for free.
ShopRite – Living Rich With Coupons posted this week's ShopRite coupons. Highlights include EarthBound Farm Salads for as low as $1.49 after coupon, Kellogg's Cereal for as low as Free after coupon & eCoupon wyb 2, Libby's Sliced Peaches for as low as $0.09 after coupon wyb 2, and Pillsbury Cake Mix for as low as $0.30 after coupon.
Stop & Shop – Look for this week's Stop & Shop coupons on Friday, the beginning of their sale cycle. Or shop by Thursday for this week's sale, including Mann's Pre Cut Vegetables for as low as $0.90 each after coupon, Barilla Blue Box Pasta, or Francesco Rinaldi Pasta Sauce for as low as $0.45 each after coupon when you buy 2 Barilla Pasta, and Bumble Bee Chunk Light Tuna in Water or Oil for as low as $0.39 each after coupon.
Safeway/Vons – Get all the Safeway/Vons coupons and deals later today.
Kroger – Faithful Provisions shares this week's Kroger grocery coupons, including Campbell Soup for $.66 ea/ wyb 3, Nabisco Chips Ahoy Cookies for as low as $.99, Kraft Salad Dressing, Select Varieties for as low as $.49, and Kroger Medium Eggs for $.88.
Whole Foods – Get Whole Foods coupons later today. Our tips for saving money at Whole Foods.
Fresh n Easy – The Deal Fanatic posts this week's Fresh n Easy grocery coupons including F&E ground chuck beef 80/20 for $1.99/lb, F&E chicken breast family pack for $1.99/lb, and F&E strawberries are 2 for $4.
Ralphs – Get all the Ralphs coupons later today.
Wegman's – This week's Wegmans coupons and deals include Chi-Chi's Corn Tortillas for $.29, Heinz Ketchup for $.99, Bandaid Adhesive Bandages for $.50, Colgate Triple Action Toothbrush for $.19, Oral-B Essential Floss Dental Floss, Waxed, Mint Flavor for $.69, and TopCare Isopropyl Alcohol 70% Solution for $.50.
Winn Dixie – My Baton Rouge Mommy shares Winn Dixie grocery deals. Highlights include Arnold Dutch Country bread for $1.50 each, Mission tortilla chips for $1.60 each, and Jack Daniel's BBQ sauce for $.50.
Harris Teeter – This week's Harris Teeter grocery coupons will be up later today.
Trader Joe's – Healthy Life Deals shares this week's Trader Joe's deals, including White Button Mushrooms for $1.99, TJ Organic Rice Microwave Bowl for $1.69, Country Choice Steel Cut Oats for $1.99, and Pure Protein Shake for $1.29.
Giant Eagle – This week's Giant Eagle coupons and deals will be up later today.
NEX – Military Wives Saving posts the best grocery deals at the Navy Exchange each week.
Grocery coupons – Get the latest grocery coupons from Coupons.com.
Redplum coupons – Get the latest coupons from Redplum.
New to coupons? Check out Bargain Babe's post on coupon clipping basics. If you want to take advantage of these deals, make sure to save the coupon inserts you receive in the mail or with your Sunday newspaper. Here's a great suggestion for how to handle coupon organization.
This post is copyrighted by BargainBabe.com. Any other site posting this content is violating the DMCA.