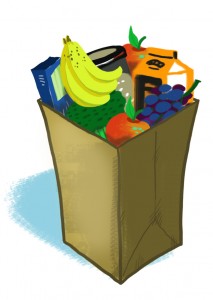 My Coupon Database searches dozens of sites for all grocery and drugstore coupons available. New coupons added weekly!
Albertsons – Get the full list of Albertsons coupons including Fresh Express Salad Kits for free when you buy one with a coupon, Mangos for $.50 each, and Albertsons Chicken Drumsticks, Thighs, Whole Chicken Legs, or Whole Fryer for $.99/lb.
Publix – Southern Savers posted this week's Publix grocery coupons. Highlights include free Dixie Plates or Bowls, Wish-Bone Dressing for $.86, Barilla Pasta for $.24, and Uncle Ben's Country Inn for $.40.
ShopRite – Living Rich With Coupons posted this week's ShopRite coupons. Highlights include Joy Ice Cream Cones for free plus $.55 money maker after coupon & eCoupon, Mueller's Pasta for as low as free after coupon, Golden Ripe Bananas per pound for $.49, and Kellogg's FiberPlus Bars for as low as $0.49 after coupon.
Ralphs – Get all the Ralphs coupons later today.
Stop & Shop – Look for this week's Stop & Shop coupons on Friday, the beginning of their sale cycle. Or shop by today for this week's sale, including Betty Crocker Suddenly Salad for as low as free after coupon, Ronzoni Pasta for $1, and French's Classic Yellow or Spicy Brown Mustard for $.90 each after coupon.
Safeway/Vons – Get all the Safeway/Vons coupons and deals later today.
Whole Foods – Get Whole Foods coupons later today. Our tips for saving money at Whole Foods.
Kroger – Faithful Provisions shares this week's Kroger grocery coupons, including Green Giant Vegetables for $.49, General Mills Treats for $.69, Dial Soap: 8 bars for $2.79, and General Mills Cereal for $.89.
Fresh n Easy – The Deal Fanatic posts this week's Fresh n Easy grocery coupons later today.
Wegman's – This week's Wegmans coupons and deals include Florida Sweet Corn for $.33 each, Heinz Ketchup for $.99, Suave Naturals Shampoo for $.87, and Colgate Triple Action Toothbrush for $.19.
Winn Dixie – A Few Shortcuts shares Winn Dixie grocery coupons for this week later today.
Trader Joe's – Healthy Life Deals shares this week's Trader Joe's deals, including Applegate Farms Turkey Bologna for $1.49, Kashi Strawberry Fields for $1.79, and Pure Protein Shake for $1.29.
Harris Teeter – This week's Harris Teeter grocery coupons will be up later today.
Giant Eagle – This week's Giant Eagle coupons and deals include Lean Cuisine for $1.63, Smucker's Toppings for as low as $.50, Mott's Applesauce for $1.33, and Betty Crocker, Ocean Spray, or Mott's Fruit Snacks for $.79.
NEX – Military Wives Saving posts the best grocery deals at the Navy Exchange each week.
Grocery coupons – Get the latest grocery coupons from Coupons.com.
Redplum coupons – Get the latest coupons from Redplum.
New to coupons? Check out Bargain Babe's post on coupon clipping basics. If you want to take advantage of these deals, make sure to save the coupon inserts you receive in the mail or with your Sunday newspaper. Here's a great suggestion for how to handle coupon organization.
This post is copyrighted by BargainBabe.com. Any other site posting this content is violating the DMCA.