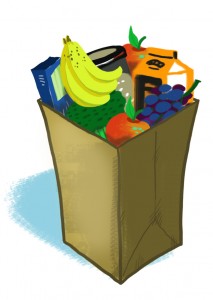 My Coupon Database searches dozens of sites for all grocery and drugstore coupons available. New coupons added weekly!
Publix – Southern Savers posted this week's Publix grocery coupons. Highlights include Marie's Dressing for free after college savings, Green Giant Valley Fresh Steamers Vegetables for $.79, Blue Diamond Almonds for $.59, and Speed Stick Anti-Perspirant or Deodorant for $.39.
ShopRite – Living Rich With Coupons posted this week's ShopRite coupons. Highlights include Smucker's Topping for $.89, Ken's Salad Dressing (must buy 3) for $.66 each after coupon, Mueller's Elbow Macaroni for free after coupon, and Bailey's Coffee Creamer for $.89.
Ralphs – Get all the Ralphs coupons later today.
Safeway/Vons – Saving Cents with Sense shares this week's Safeway/Vons coupon deals. Highlights include General Mills Cheerios 14 oz for $.99 ea after coupon, Gatorade 32 oz for $.83 (buy 10 get 2 free), and Kettle Potato Chips for $1.98 with store coupon.
Albertsons – Save at Home Mommy share this week's Albertsons coupons including Quaker Baked Breakfast Bars for free, mangos for $.49 each, Coppertone Sport SPF30 Sport for s low as $3.49 each when you buy 2, and Kraft Dressings for $.70 each when you buy 2.
Whole Foods – Get Whole Foods coupons later today. Our tips for saving money at Whole Foods.
Fresh n Easy – The Deal Fanatic posts this week's Fresh n Easy grocery coupons later today.
Winn Dixie – My Baton Rouge Mommy shares the Winn Dixie grocery deals. Highlights include Cole's garlic or Big Texan Toast for $1.50 each, Sargento shredded cheese for $1.55, Right Guard TDS body wash for $1.30, and Hormel Chili for $.65.
Stop & Shop – Look for this week's Stop & Shop couponson Friday, the beginning of their sale cycle. Or shop by Thursday for this week's sale, including super sweet corn for $.17, Keebler Cookies, Fudge Shoppe, E.L. Fudge, Vienna Fingers, Chips Deluxe, Sandies, Soft Batch, Famous Amos, or Right Bites for $.26 each after coupon, General Mills Cereal for $1.79 each after coupon, and Hunt's Ketchup for $.30.
Harris Teeter – This week's Harris Teeter grocery coupons will be up later today.
Kroger – Faithful Provisions shares this week's Kroger grocery coupons, including Popsicle Frozen Treats for free, Aquafresh Toothpaste for as low as free, Horizon Organic Milk (8 oz single) for $.45, and Voskos Greek Yogurt for $.66 when you buy 3.
Wegman's – This week's Wegmans coupons will be up later today.
Trader Joe's – Healthy Life Deals shares this week's Trader Joe's deals, including Organic Free range Chicken Legs for $1.99 lb, Clif Mojo Bars for $.44, Tofurky Smoked Slices for $1.54, and Country Choice Old Fashion Oats for $1.29.
Giant Eagle — This week's Giant Eagle coupons and deals will be up tomorrow.
NEX – Military Wives Saving posts the best grocery deals at the Navy Exchange each week.
Grocery coupons – Get the latest grocery coupons from Coupons.com.
Redplum coupons – Get the latest coupons from Redplum.
New to coupons? Check out Bargain Babe's post on coupon clipping basics. If you want to take advantage of these deals, make sure to save the coupon inserts you receive in the mail or with your Sunday newspaper. Here's a great suggestion for how to handle coupon organization.
This post is copyrighted by BargainBabe.com. Any other site posting this content is violating the DMCA.