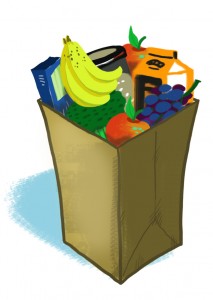 My Coupon Database searches dozens of sites for all grocery and drugstore coupons available. New coupons added weekly!
Publix – Southern Savers posted this week's Publix grocery coupons. Highlights include Land O' Lakes Margarine, or Fresh Buttery Taste Spread for $.47, Lipton Tea Bags for $.34, A.1. Steak Sauce for $.95, Kraft Barbecue Sauce for $.34, and Carefree or Stayfree Pads or Pantiliners for $.70.
ShopRite – Living Rich With Coupons posted this week's ShopRite coupons. Highlights include Mission Tortilla Wraps for $.84 after coupon, Prego Pasta Sauce (must buy 2) for as low as $0.75 each after coupon, Kellogg's Cereal for as low as free after coupon and SR eCoupon, and Barilla Plus Pasta for as low as $0.89 each after coupon.
Ralphs – Get all the Ralphs coupons later today.
Albertsons – Save at Home Mommy shares this week's full list of Albertsons coupons including strawberries (1/lb) for $.99, cucumbers for $.33, mangoes for $.69, Barilla Pasta or Jell-O Pudding or Gelatin for as low as $.20, and French's Spicy Brown or Yellow Mustard or Lindsay Ripe Olives or Sweet Baby Ray's BBQ Sauce for $.69.
Whole Foods – Get Whole Foods coupons later today. Our tips for saving money at Whole Foods.
Winn Dixie – My Baton Rouge Mommy shares Winn Dixie grocery deals. Highlights include Organic Girl salad mixes for $.50, Hunt's Snack Pack for $.67, and Finish Powerball tabs or gelpacs dishwater detergent for $1.90 each.
Stop & Shop – Look for this week's Stop & Shop coupons on Friday, the beginning of their sale cycle. Or shop by Thursday for this week's sale, including Kashi Go Lean Cereal for $2, Bumble Bee Chunk White Tuna for $.50 after coupons, Silk Soy, Almond, or Coconut Milks for $1.90 after coupons, and Breakstone's Sour Cream for as low as $.16.
Fresh n Easy – The Deal Fanatic posts this week's Fresh n Easy grocery coupons later today.
Safeway/Vons  – Saving Cents with Sense shares this week's Safeway/Vons coupons including Colgate Toothpaste for free after coupon, milk for $1.57 per gallon, and Pure Protein Bar for $.50 each when you buy 2 after coupon.
Kroger – Faithful Provisions shares this week's Kroger grocery coupons, including yoplait yogurt for as low as $.91 each when you buy two, General Mills Cereal for $1.29, and Green Bell Peppers for $.64 each.
Wegman's – This week's Wegmans coupons and deals include Wegmans Greek Yogurt for $.89, Colgate Triple Action Toothbrush for $.19, Secret Antipersperant/Deoderant for $.38 each, and Bic Salon Shavers for $.69.
Harris Teeter – This week's Harris Teeter grocery coupons will be up later today.
Trader Joe's – Healthy Life Deals shares this week's Trader Joe's deals, including organic Baby Spinach for $2.49, Organic Free range Chicken Legs for $1.99/lb, Morningstar Patties for $2.39, and McCanns Irish Oatmeal for $1.99.
Giant Eagle – This week's Giant Eagle coupons and deals will be up later today.
NEX – Military Wives Saving posts the best grocery deals at the Navy Exchange each week.
Grocery coupons – Get the latest grocery coupons from Coupons.com.
Redplum coupons – Get the latest coupons from Redplum.
New to coupons? Check out Bargain Babe's post on coupon clipping basics. If you want to take advantage of these deals, make sure to save the coupon inserts you receive in the mail or with your Sunday newspaper. Here's a great suggestion for how to handle coupon organization.
This post is copyrighted by BargainBabe.com. Any other site posting this content is violating the DMCA.