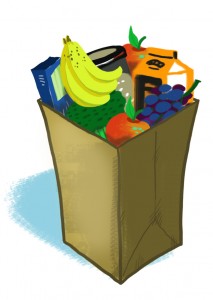 My Coupon Database searches dozens of sites for all grocery and drugstore couponsavailable. New coupons added weekly!
Albertsons – Save at Home Mommy shares this week's full list of Albertsons coupons including Hass Avocados for $.69 each, Quaker Bars Baked Breakfast for as low as $.75, Chicken of the Sea Solid White Tuna for $.88 with in ad coupon, and Cucumbers for $.33 each.
Publix —
Southern Savers posted this week's
Publix grocery coupons
. Highlights include Breakstone's Sour Cream for $.17, JI Can't Believe It's Not Butter Spread for $.44, Kellogg's Eggo Pancakes, French Toaster Sticks, or Mini Muffin Tops $.49, Mission Flour Soft Taco Tortillas for $.34, and Dove Deodorant for $.49.
ShopRite – Living Rich With Coupons posted this week's ShopRite coupons. Highlights include Ken's Dressing for as low as free, Kashi Cereal for as low as $.99 each after coupon, Dove Chocolate Single Bars for $.19 each after coupon, Quaker Real Medleys for $.66 each after coupon, and Nature's Bounty Vitamin or Supplement for $.04 each after coupon.
Ralphs – Get all the Ralphs coupons later today.
Safeway/Vons – Get all the Safeway/Vons coupons and deals later today.
Winn Dixie – My Baton Rouge Mommy shares Winn Dixie grocery coupons for this week. Highlights include Sanderson Farms family pack chicken thighs, drumsticks or leg quarters for $.99/lb, Select General Mills cereal for $1.90 each, Kraft mac & cheese for $.90, and Sara Lee whole grain white bread  $1.42.

Stop & Shop — Look for this week's Stop & Shop coupons on Friday, the beginning of their sale cycle. Or shop by Thursday for this week's sale, including Keebler Cookies for as low as $.60, Ken's Marinade for as low as $.49 each after coupon, Welch's Grape Jelly for as low as $0.50 each after coupon, and Ocean Spray Cranberry Juice or Fruit & Veggie for $1 each after coupon.
Fresh n Easy – The Deal Fanatic posts this week's Fresh n Easy grocery coupons later today.
Kroger – Faithful Provisions shares this week's Kroger grocery coupons, including Pillsbury Grand Biscuits for as low as $.60 each when you buy two if Sweet Rolls are included, Kroger Yogurt for $.33, Post Cereal (select varieties) for $1, and Barilla Pasta for as low as $.50 each when you buy two.
Wegman's – This week's Wegmans coupons and deals include Wegmans Greek Yogurt for $.89, Chobani Greek Yogurt
for $.40, Suave Naturals Shampoo for $.87, and Lever 2000 Perfectly Fresh Bar Soap for $.99.

Harris Teeter – This week's Harris Teeter grocery coupons will be up later today.
Trader Joe's – Healthy Life Deals shares this week's Trader Joe's deals, including Tofurky Smoked Slices for $1.54, McCanns Irish Oatmeal for $1.99, Rudi's Organic Hot Dog Buns for $2.24, and TJ Sprouted Wheat Berry for $3.49.
Giant Eagle — This week's Giant Eagle coupons and deals will be up later today.
NEX – Military Wives Saving posts the best grocery deals at the Navy Exchange each week.
Grocery coupons – Get the latest grocery coupons from Coupons.com.
Redplum coupons – Get the latest coupons from Redplum.
New to coupons? Check out Bargain Babe's post on coupon clipping basics. If you want to take advantage of these deals, make sure to save the coupon inserts you receive in the mail or with your Sunday newspaper. Here's a great suggestion for how to handle coupon organization.
This post is copyrighted by BargainBabe.com. Any other site posting this content is violating the DMCA.