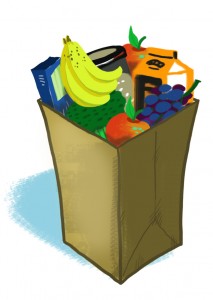 My Coupon Database searches dozens of sites for all grocery and drugstore coupons available. New coupons added weekly!
Albertsons – Save at Home Mommy shares this week's full list of Albertsons coupons including Ken's Salad Dressing for as low as free, Safeway Apple Juice for $1.79, Chicken Leg Quarters for $.75/lb, and Fuji, Gala, Granny Smith, or Red Delicious Apples for $.77/lb.
Publix – Southern Savers posted this week's Publix grocery coupons. Highlights include Whole Fruit Sorbert for $.74, Jose Ole Taquitos or Tacos for $.99, Ragu Pasta Sauce for $9, and Bic Disposable Razors or Hybrid Advanced Razor for as low as free.
ShopRite – Living Rich With Coupons posted this week's ShopRite coupons. Highlights include Yoplait Lactose-Free Yogurt for as low as free, Earthbound Farm Salads for as low as $1 after coupon, Francesco Rinaldi Pasta Sauce for as low as $0.25 each after coupon, Welch's Grape Jelly for $.90 after each coupon, and General Mills Milk n Cereal Bars for $.99 after each coupon.
Ralphs – Get all the Ralphs coupons later today.
Safeway/Vons – Get all the Safeway/Vons coupons and deals later today.
Winn Dixie – My Baton Rouge Mommy shares Winn Dixie grocery coupons for this week. Highlights include Select Post Cereals for $1.85, Playtex Gentle Glide Tampons for $1.40, Friskies cat treats for $1.25 each, and Dozen large eggs $1.
Whole Foods – Get Whole Foods coupons later today. Our tips for saving money at Whole Foods.
Stop & Shop – Look for this week's Stop & Shop coupons on Friday, the beginning of their sale cycle. Or shop by Thursday for this week's sale, including General Mills Cereal for as low as $.80, Pepperidge Farm Garlic Toast for as low as $1 each after coupon, Lysol Disinfecting or Dual Action Wipes, Glass Plus Wipes or Old English Wipes for as low as $0.50 each after coupon.
Fresh n Easy – The Deal Fanatic posts this week's Fresh n Easy grocery coupons later today.
Kroger – Faithful Provisions shares this week's Kroger grocery coupons, including Blue Diamond Almonds for $1.49, Kellogg's Cereal for $.99, Kashi GoLean Cereal for $.79, and Del Monte Fruit Naturals for $0.88.
Wegman's – This week's Wegmans coupons and deals include Bandaid Adhesive Bandages for $.50, Bic Salon Shavers for $.69, Wegmans Butter (1 lb.) for $1.99, and Dannon Light and Fit Yogurt (4 pack) for $1.89.

Harris Teeter – This week's Harris Teeter grocery coupons will be up later today.
Trader Joe's – Healthy Life Deals shares this week's Trader Joe's deals, including Pure Protein Bar for $.99, Wisecrackers Roasted Garlic w/ Rosemary for $1.99, Uncle Sam's Cereal for $1.29, and Pacific Foods Chocolate Hazelnut Milk for $.69.
Giant Eagle – This week's Giant Eagle coupons and deals will be up later today.
NEX – Military Wives Saving posts the best grocery deals at the Navy Exchange each week.
Grocery coupons – Get the latest grocery coupons from Coupons.com.
Redplum coupons – Get the latest coupons from Redplum.
New to coupons? Check out Bargain Babe's post on coupon clipping basics. If you want to take advantage of these deals, make sure to save the coupon inserts you receive in the mail or with your Sunday newspaper. Here's a great suggestion for how to handle coupon organization.
This post is copyrighted by BargainBabe.com. Any other site posting this content is violating the DMCA.