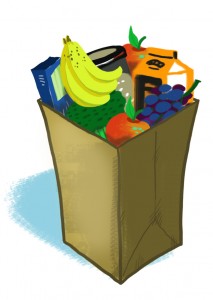 My Coupon Database searches dozens of sites for all grocery and drugstore coupons available. New coupons added weekly!
Albertsons – Get the full list of Albertsons coupons later today. Highlights include mangos for $.69 each, Fuji Apples for $.99/lb, Yoplait Greek Yogurt Cups for $.75 each when you buy 2 or $.50 each with doubler, and buy two of any Dannon Pure Multipacks or Quarts and get one free Redbox one day movie rental.
Publix – Southern Savers posted this week's Publix grocery coupons. Highlights include Ken's Steak House Dressing for $.80, Kraft Velveeta Cheesy Skillets for $.49, Nature's Own 100% Whole Wheat Bread for $.69, Arm & Hammer Toothpaste for $.94, and Lysol Disinfectant Toilet Bowl Cleaner or Cling for $.64.
ShopRite – Living Rich With Coupons posted this week's ShopRite coupons. Highlights include Skippy Peanut Butter for $.49 each after coupon, General Mills Cereal for $.29, Mrs. Cubbison's Croutons for $.50, and Smuckers Grape Jam or Jelly for $.49 eac after coupon.
Safeway/Vons – Get all the Safeway/Vons coupons and deals later today.
Winn Dixie – My Baton Rouge Mommy shares Winn Dixie grocery deals. Highlights include Scotch Brite wipes are buy one get one free with printable coupon, French's mustard classic yellow for $.65, Airwick candles are $.75 each, and Quaker Chewy granola bars, Yogurt Chewy, Soft Baked Banana bread or cinnamon roll for as low as $.85.
Ralphs – Get all the Ralphs coupons later today. Ralphs no longer doubles coupons.
Stop & Shop – Look for this week's Stop & Shop coupons on Friday, the beginning of their sale cycle. Or shop by Thursday for this week's sale, including Stove Top Stuffing Mix for $.66, Kraft Deluxe or Homestyle Mac & Cheese for $1, General Mills Cinnamon Toast Crunch, Frosted Toast Crunch, Cookie Crisp, Cocoa Puffs, Lucky Charms, Trix or Kix for $.80, and Yoplait Yogurt Cups for $.60.
Whole Foods – Get Whole Foods coupons later today. Our tips for saving money at Whole Foods.
Kroger – Faithful Provisions shares this week's Kroger grocery coupons, including Fresh Selections Classic Garden Salad for $.48, Navel Oranges for $.74/lb, Sargento Cheese for as low as $1, and Kellogg's Cereal for $1.
Fresh n Easy – The Deal Fanatic posts this week's Fresh n Easy grocery coupons later today.
Wegman's – This week's Wegmans coupons and deals include Wegmans Tomato Sauce for $.33, Artichokes for $.50, Hunt's Tomato Sauce (8 oz.) for $.33, Dannon Activia Yogurt for $.99, and Suave Naturals Shampoo for $.87.
Harris Teeter – This week's Harris Teeter grocery coupons will be up later today.
Trader Joe's – Healthy Life Deals shares this week's Trader Joe's deals, including Annie Chuns Bowls for $1.49, Pure Protein Bar for $.99, Tofurky Smoked Slices for $1.54, and Country Choice Old Fashion Oats for $1.54.
Giant Eagle — This week's Giant Eagle coupons and deals will be up later today.
NEX – Military Wives Saving posts the best grocery deals at the Navy Exchange each week.
Grocery coupons – Get the latest grocery coupons from Coupons.com.
Redplum coupons – Get the latest coupons from Redplum.
New to coupons? Check out Bargain Babe's post on coupon clipping basics. If you want to take advantage of these deals, make sure to save the coupon inserts you receive in the mail or with your Sunday newspaper. Here's a great suggestion for how to handle coupon organization.
This post is copyrighted by BargainBabe.com. Any other site posting this content is violating the DMCA.