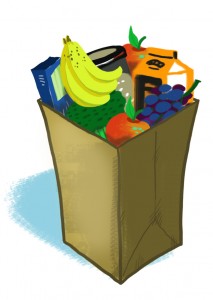 My Coupon Database searches dozens of sites for all grocery and drugstore coupons available. New coupons added weekly!
Albertsons – Save at Home Mommy shares this week's Albertsons coupons including green seedless grapes for $.99 per pound, Betty Crocker SuperMoist Cake Mix for $.99, Kraft Salad Dressing for $.50, and Balance Bars for $.63 each when you buy three.
Whole Foods – The Thrifty Mama shares this week's Whole Foods coupons. Highlights include Alexia Oven Reds or Organic Hashbrowns for $1.84, Annie's Organic Rising Crust Pizza for $3.99, CLIF Builder's Bars $0.84 each after coupon when you buy two, and Naked Juice Smoothies for $1.50. Our tips for saving money at Whole Foods.
Publix – Southern Savers posted this week's Publix grocery coupons. Highlights include Beech-Nut Steamies or Let's Grow Mini Meals, or Fruities Fruit Cups for free, Philadelphia Indulgence Chocolate Cream Cheese Spread for free, Kraft Fresh Take Cheese and Breadcrumb Mixes for free, Mueller's Pasta for $.18, Land O Lakes Spreadable Butter for $.59, Blue Diamond Almonds for $.59, Dannon Light & Fit for $.94, and Philadelphia Cooking Creme for $.25.
Ralphs – The Ralphs prices assume coupon doubling up to $1. Get all the Ralphs coupons later today.
ShopRite – Living Rich With Coupons posted this week's ShopRite coupons. Highlights include Kellogg's Cereal for as low as  $.39, Barilla Pasta for $.49, Welch's Squeeze Grape Jelly for as low as $.99each after coupon, and Suave Shampoo for as low as free.
Fresh n Easy – The Deal Fanatic posts this week's Fresh n Easy grocery coupons later today.
Winn Dixie – My Baton Rouge Mommy shares Winn Dixie grocery coupons for this week. Highlights include Del Monte vegetables or tomatoes for $.75, Right Guard Total Defense for $1, Nabisco Ritz or Wheat Thins Toasted Chips for $1.50 each, and Crystal Light for $1.75.
Safeway/Vons – Get all the Safeway/Vons coupons and deals later today.
Stop & Shop – Look for this week's Stop & Shop coupons on Friday, the beginning of their sale cycle. Or shop by Thursday for this week's sale, including Duncan Hines Cake Mix Classic or Signature for $.15 each after coupon, Del Monte Canned Vegetables for $.80, and McCormick Perfect Pinch Seasoning Blends for $1 each after coupon.
Kroger – Faithful Provisions shares this week's Kroger grocery coupons, including Country Crock Spread for as low as free, Dannon Yogurt for as low as $.49, Kraft Fresh Take for as low as $.79, and Post Cereal for $1.19.
Wegman's – This week's Wegmans coupons and deals include Yoplait Yogurt for $.47 each, Hunt's Tomato Paste for $.50,
Hunt's Tomato Sauce for $.33, Dannon Activia Yogurt for $.99, Colgate Total Toothpaste for $.99, and Suave Naturals Shampoo $.87.
Harris Teeter – This week's Harris Teeter grocery coupons will be up later today.
Trader Joe's – Healthy Life Deals shares this week's Trader Joe's deals, including Oregon Chai for $1.99, Kashi Heart 2 Heart for $1.49, Pacific Foods Chocolate Hazelnut Milk for $.69, and Cage-Free Dozen $2.79.
Giant Eagle – This week's Giant Eagle coupons and deals will be up later today.
NEX – Military Wives Saving posts the best grocery deals at the Navy Exchange each week.
Grocery coupons – Get the latest grocery coupons from Coupons.com.
Redplum coupons – Get the latest coupons from Redplum.
New to coupons? Check out Bargain Babe's post on coupon clipping basics. If you want to take advantage of these deals, make sure to save the coupon inserts you receive in the mail or with your Sunday newspaper. Here's a great suggestion for how to handle coupon organization.
This post is copyrighted by BargainBabe.com. Any other site posting this content is violating the DMCA.