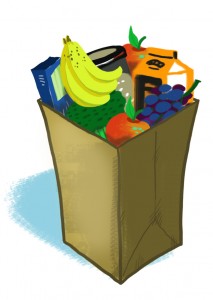 This list now includes grocery deals at Giant Eagle! Plus, online coupon links below.
Ralphs – The Ralphs prices assume coupon doubling up to $1. Get all the Ralphs coupons later today. Our tips for saving money at Ralphs.
Safeway/Vons – Get all the Safeway/Vons coupons and deals later today.
Albertsons – Save at Home Mommy share's this week's Albertsons coupons. Highlights include Dannon Activia or Light for $0.50, Johnsonville Bratwurst or Italian Sausage for $2.29, and Sargento Natural Shredded Cheese for $1.45.
Whole Foods – Get Whole Foods coupons later today. Our tips for saving money at Whole Foods. Publix – Southern Savers posted this week's Publix grocery coupons. Highlights include free Glade Candle, Ronzoni Pasta for $0.24, and Emerald Old Fashioned Honey Roasted Peanuts, Dry Roasted for $0.79.
ShopRite – Living Rich With Coupons posted this week's ShopRite coupons including four freebies! Highlights include free Bull's Eye BBQ Sauce, fresh blueberries for as low as $0.99, and General Mills Cereal for $0.88.
Fresh n Easy – The Deal Fanatic posts this week's Fresh n Easy grocery coupons later today.
Winn Dixie – My Baton Rouge Mommy shares Winn Dixie grocery coupons for this week. Highlights include Pompeian Olive Oil for $2, Tropicana lemonade or punch for $1, and Gain for $1.99.
Stop & Shop – Look for this week's Stop & Shop couponson Friday, the beginning of their sale cycle. Or shop by Thursday for this week's sale, including Butterball Thin & Crispy Turkey Bacon for as low as free, Fruit2Day Juice for $0.62, and Colgate Toothpaste  for as low as $0.27.
Kroger – Faithful Provisions shares this week's Kroger grocery coupons, including Kraft Easy Mac or Velveeta & Cheese for $0.49, Classico Pasta Sauce for $0.79, and Aunt Jemima French Toast, Pancakes or Waffles for $0.49.
Wegman's – This week's Wegmans coupons and deals include Mom's Best Better Oats Hot Cereal for $0.50, Bar-S Jumbo Franks for $0.49, and Stayfree Ultra Thin Pads for $0.99.
Harris Teeter – This week's Harris Teeter grocery coupons will be posted later today.
Trader Joe's – Healthy Life Deals shares this week's Trader Joe's deals, including Kashi TLC 7 grain Crackers for $0.79, Luna bars for $0.49, and Country Choice Mutigrain for $1.29.
Giant Eagle – Lady Savings shares this week's Giant Eagle deals. Highlights include Special K Bars for $1.90, Vlasic Pickles for $1.40, and CoffeeMate for $2.
Grocery coupons – Get the latest grocery coupons from Coupons.com.
Redplum coupons – Get the latest coupons from Redplum.
New to coupons? Check out Bargain Babe's post on coupon clipping basics. If you want to take advantage of these deals, make sure to save the coupon inserts you receive in the mail or with your Sunday newspaper. Here's a great suggestion for how to handle coupon organization.