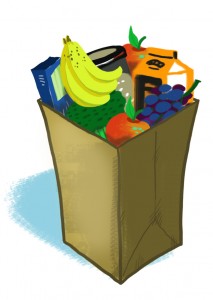 My Coupon Database searches dozens of sites for all grocery and drugstore coupons available. New coupons added weekly!
Albertsons – Save at Home Mommy lists this week's Albertsons coupons. Highlights include Palmolive 2x Dishwashing Liquid for $.74, Yoplait Greek Yogurt for $.75 when you buy two, and Chef Boyardee Pasta Microwave or Canned with Meat for $.88 when you buy four.
Publix – Southern Savers posted this week's Publix grocery coupons. Highlights include Marzetti Dip for $.84, Apple & Eve FruitSmarts Juice Beverage, Fruitables Fruits & Vegetables or 100% Apple Juice for $.74, Barilla Pasta for $.24, and Nivea Lip Products for $.50.
ShopRite – Living Rich With Coupons posted this week's ShopRite coupons. Highlights include Barilla Pasta for as low as free, Bumble Bee Solid White Tuna as low as $0.49 each after coupon, and Old El Paso Taco Seasoning for as low as free.
Whole Foods – Get Whole Foods coupons later today. Our tips for saving money at Whole Foods.
Stop & Shop – Look for this week's Stop & Shop coupons on Friday, the beginning of their sale cycle. Or shop by Thursday for this week's sale, including Pom Wonderful Lite Juice for as low as $1 after coupons, Chicken of the Sea Chunk  for $.89, Hunts Ketchup for $1, and Yoplait Yogurt Cups all varieties as low as free.
Kroger – Faithful Provisions shares this week's Kroger grocery coupons, including Propel Fitness Water for $.49, Hunt's Tomatoes or Paste for $.39 when you buy two, Pepperidge Farm Goldfish Crackers for $.99, and Van's Waffles, Pancakes or French Toast Sticks for $.99.
Ralphs – The Ralphs prices assume coupon doubling up to $1. Get all the Ralphs coupons later today.
Fresh n Easy – The Deal Fanatic posts this week's Fresh n Easy grocery coupons highlights include Mini Watermelon for $1.99, Hummus or Refrigerated Salsa for $5 when you buy multiples of two, and Beef Franks, Cooked Sausages or Cocktail Smokies for $6 when you buy multiples of 2.
Winn Dixie – My Baton Rouge Mommy shares the Winn Dixie grocery deals. Highlights include Kraft BBQ sauce for $.90 each, French's mustard for $.85, Hormel Chili for $.87, and Colgate Toothpaste for $.49.
Harris Teeter – This week's Harris Teeter grocery coupons will be up later today.
Safeway/Vons – Get all the Safeway/Vons coupons and deals later today.
Wegman's – This week's Wegmans coupons and deals include Hunt's Tomato Sauce for $.33, Goya Blue Label Premium Canned Beans for $.79, Aquafresh Toothpaste for $.69, and Softsoap Body Wash for $.69.
Trader Joe's – Healthy Life Deals shares this week's Trader Joe's deals, including Organic Pink Lady Apples for $.69 each, TJ Organic Maple Syrup for $7.99, TJ Uncured Turkey Bacon for $2.99, and Organic Strawberries for $1.99.
Giant Eagle – This week's Giant Eagle coupons and deals will be up later today.
NEX – Military Wives Saving posts the best grocery deals at the Navy Exchange each week.
Grocery coupons – Get the latest grocery coupons from Coupons.com.
Redplum coupons – Get the latest coupons from Redplum.
New to coupons? Check out Bargain Babe's post on coupon clipping basics. If you want to take advantage of these deals, make sure to save the coupon inserts you receive in the mail or with your Sunday newspaper. Here's a great suggestion for how to handle coupon organization.
This post is copyrighted by BargainBabe.com. Any other site posting this content is violating the DMCA.