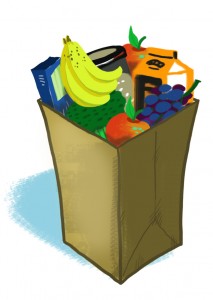 Get online coupons for these stores below. Reduce your grocery bill with Grocery University, a set of audio lessons crafted to save a lot more than you think you can on groceries.
My Coupon Database searches dozens of sites for all grocery and drugstore coupons available. New coupons added weekly!
Albertsons – Save at Home Mommy shares this week's Albertsons coupons. Highlights include large cucumbers for $.79 each, Betty Crocker Hamburger Helper for $.74 each when you buy 3 or $.49 each with a doubler, and StarKist Tuna Pouch for $.50.
Publix – Southern Savers posted this week's Publix grocery coupons. Highlights include free Ronzoni Healthy Harvest or Garden Delight Pasta, Swiss Miss Hot Cocoa Mix for $.99 or less, and Musselman's Apple Sauce for $0.89 each.
Ralphs – The Ralphs prices assume coupon doubling up to $1. This week's coupons and deals will be posted later today. Get all the Ralphs coupons later today. Safeway/Vons – Get all the Safeway/Vons coupons and deals later today.
ShopRite – Living Rich With Coupons posted this week's ShopRite coupons. Highlights include Red Pack Tomatoes for as low as $0.33 after coupon, Progresso Soup for as low as $0.83 each after coupon, and Pop Secret Popcorn for $0.25 after coupon.
Fresh n Easy – The Deal Fanatic posts this week's Fresh n Easy grocery coupons later today.
Winn Dixie – My Baton Rouge Mommy shares Winn Dixie grocery deals including WD macaroni & cheese dinner for $0.50, Pillsbury Grands! biscuits for $0.50, and Jolly Time Popcorn for $0.95.
Trader Joe's – Healthy Life Deals posts this week's Trader Joe's deals later today.

Stop & Shop – Look for this week's Stop & Shop coupons on Friday, the beginning of their sale cycle. Or shop by Thursday for this week's sale, including Fiber One Bread for as low as $0.99 each after coupon when you buy 2, Chi-Chi's Tortillas for as low as $0.50 each after coupon, and Pure Protein Bars for as low as $0.25 each after coupon.
Whole Foods – Get Whole Foods coupons later today. Our tips for saving money at Whole Foods.
Kroger – Faithful Provisions shares this week's Kroger grocery coupons, including Dawn Dish Detergent for $0.99, get 25% off Harvestland All Natural Chicken, Softsoap for $0.88, and Speed Stick Deodorant for $0.88.
Harris Teeter — This week's Harris Teeter grocery coupons will be up later today.
Wegman's – This week's Wegmans coupons and deals include Nature Valley Granola Squares for $1, Hunt's Tomato Paste for $.50, Aquafresh Toothpaste for $.69, and TopCare Cough Drops for $.69.
Giant Eagle — Lady Savings shares this week's Giant Eagle coupons later today.
NEX – Military Wives Saving posts the best grocery deals at the Navy Exchange each week.
Grocery coupons – Get the latest grocery coupons from Coupons.com.
Redplum coupons – Get the latest coupons from Redplum.
New to coupons? Check out Bargain Babe's post on coupon clipping basics. If you want to take advantage of these deals, make sure to save the coupon inserts you receive in the mail or with your Sunday newspaper. Here's a great suggestion for how to handle coupon organization.
This post is copyrighted by BargainBabe.com. Any other site posting this content is violating the DMCA.