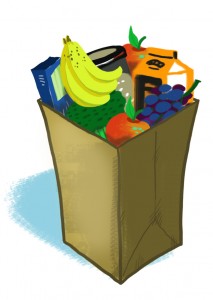 My Coupon Database searches dozens of sites for all grocery and drugstore coupons available. New coupons added weekly!
Albertsons – Save at Home Mommy shares this week's Albertsons coupons. Highlights include mangos for $0.50, Crest Toothpaste for $0.75 when you buy two, and Yoplait Cups for $0.50 when you ten.
Publix – Southern Savers posted this week's Publix grocery coupons. Highlights include Welch's 100% Grape Juice for $0.95, Pace Chunky Salsa, Picante Sauce, or Pico de Gallo for $0.89, Hunt's 100% Natural Tomatoes, Puree, or Sauce for $0.66, Post Cereals for $0.82, and Nestle Toll House Cookie Dough for $0.44.
Ralphs – The Ralphs prices assume coupon doubling up to $1. This week's coupons and deals will be posted later today. Get all the Ralphs coupons later today.
ShopRite – Living Rich With Coupons posted this week's ShopRite coupons. Highlights include free Crosse & Blackwell Cocktail, Shoprite White Bread, round Top or Sandwich for $1, Kraft Macaroni & Cheese for $0.22, ShopRite Seltzer for $0.33, and Minute Maid Orange Juice for as low as $0.88.
Safeway/Vons – Get all the Safeway/Vons coupons and deals later today.
Fresh n Easy – The Deal Fanatic posts this week's Fresh n Easy grocery coupons later today.
Stop & Shop – Look for this week's Stop & Shop coupons on Friday, the beginning of their sale cycle. Or shop by Thursday for this week's sale, including Swanson Broth for $0.55, Bumblebee Chunk Light Tuna for $0.29, Barilla Pasta for as low as $0.75, and Duncan Hines Cake Mix for $0.25.
Whole Foods – Get Whole Foods coupons later today. Our tips for saving money at Whole Foods.
Kroger – Faithful Provisions shares this week's Kroger grocery coupons, including ZonePerfect Bar for $0.45, Heluva Good French Onion Dip for as low as $0.50, and Aleve Pain Reliever for $0.99.
Winn Dixie – My Baton Rouge Mommy will post the Winn Dixie grocery deals next week.
Wegman's – This week's Wegmans coupons and deals will be up later today.
Harris Teeter — This week's Harris Teeter grocery coupons will be up later today.
Trader Joe's – Healthy Life Deals shares this week's Trader Joe's deals, including Luna Bar for $0.49, TJ Dried Mango for $1.69, TJ Uncured Turkey Bacon 8 0unces for $2.99, and Dorot chopped garlic 20 cubes for $1.49 each when you buy two.
Giant Eagle — Lady Savings shares this week's Giant Eagle coupons later today.
NEX – Military Wives Saving posts the best grocery deals at the Navy Exchange each week.
Grocery coupons – Get the latest grocery coupons from Coupons.com.
Redplum coupons – Get the latest coupons from Redplum.
New to coupons? Check out Bargain Babe's post on coupon clipping basics. If you want to take advantage of these deals, make sure to save the coupon inserts you receive in the mail or with your Sunday newspaper. Here's a great suggestion for how to handle coupon organization.
This post is copyrighted by BargainBabe.com. Any other site posting this content is violating the DMCA.