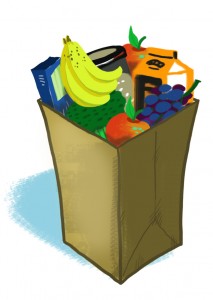 Many sites have not posted the weekly coupon matches, but you can use My Coupon Database to search dozens of sites for all grocery and drugstore couponsavailable.
Ralphs – The Ralphs prices assume coupon doubling up to $1. Get all the Ralphs coupons later today.
Safeway/Vons – Get all the Safeway/Vons coupons and deals later today.
Albertsons – Save at Home Mommy shares this week's Safeway/Vons coupons. Highlights include Wild Harvest Organic Salad Blends are buy one get one FREE, Prego Pasta Sauce for $1.12 each when you buy 2 or $.74 each with a doubler, Campbell's Canned Pasta no Meat for as low as $.47 each when you buy 2 or $.27 each with a doubler, Guerrero Flour Tortillas for as low as $0.50, and Fage Yogurt Cups for $.60 each when you buy 5 or $.20 each with a doubler.
Whole Foods – Get Whole Foods coupons later today. Our tips for saving money at Whole Foods.
Publix – Southern Savers posted this week's Publix grocery coupons. Highlights include General Mills Cereals for $0.74, V8 VFusion Vegetable, Fruit, Tea and 100% Juice for $0.99, Ronzoni Pasta for $0.77, and Van's Organic Waffles for $0.49.
ShopRite — Living Rich With Coupons posted this week's ShopRite coupons. Highlights include free Kikkoman Soy Sauce, Barilla Pasta for $0.28 after coupon, Ragu Pasta Sauce for $0.24, Wish-Bone Salad Dressing for as low as $0.72, and Pompeian Red Wine Vinegar for $0.25.
Fresh n Easy – The Deal Fanatic posts this week's Fresh n Easy grocery coupons including cantaloupes for $0.98 each, F&E Goodness mac and cheese for $0.99, and F&E Orange Juice for $1.99.
Winn Dixie – My Baton Rouge Mommy shares Winn Dixie grocery deals. This week you'll find WD macaroni & cheese for $0.50, Degree or Dove deodorant for $0.65, and Stouffer's skillet meals for $1.50 each.
Stop & Shop — Look for this week's Stop & Shop coupons on Friday, the beginning of their sale cycle. Or shop by Thursday for this week's sale, including free Old El Paso Refried Beans, free Old El Paso Seasoning Mix, Tuttorosso Tomato Sauce for $0.25, and Barilla Pasta Sauce for $0.90.
Kroger
– Faithful Provisions shares this week's
Kroger grocery coupons
, including Yoplait Yogurt for as low as $0.49, Perdue Split Chicken Breast for $0.99/lb, and Mission Soft Tacos Tortillas for $0.50.
Wegman's – This week's Wegmans coupons and deals will be up later today.
Harris Teeter – This week's Harris Teeter grocery coupons will be posted later today.
Trader Joe's – Healthy Life Deals shares this week's Trader Joe's deals, including Organic Navel Oranges 4lb bag for $4.79, Organic Romaine Hearts 3-pack for $2.69, and TJ Pita Bread for $1.69.
Giant Eagle — Lady Savings posts this week's Giant Eagle coupon deals later today.
NEX — Military Wives Saving posts the best grocery deals at the Navy Exchange each week.
Grocery coupons – Get the latest grocery coupons from Coupons.com.
Redplum coupons – Get the latest coupons from Redplum.
New to coupons? Check out Bargain Babe's post on coupon clipping basics. If you want to take advantage of these deals, make sure to save the coupon inserts you receive in the mail or with your Sunday newspaper. Here's a great suggestion for how to handle coupon organization.