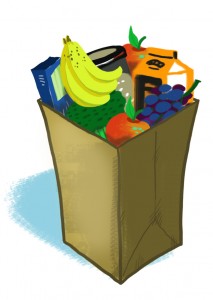 Many of the weekly deals are not up yet, but you can use My Coupon Database to search dozens of sites for all grocery and drugstore coupons available. Sign up for Grocery University to become an ace couponer and use coupon code BARGAINBABE to get $10 off through Aug. 15, 2011.
Ralphs – The Ralphs prices assume coupon doubling up to $1. Get all the Ralphs coupons later today. Our tips for saving money at Ralphs.
Safeway/Vons – Get all the Safeway/Vons coupons and deals later today.
Albertsons – Save at Home Mommy shares this week's list of Albertsons coupons. Highlights include Betty Crocker Helpers or Progresso Vegetable Classics Soup for $0.75 each when you buy four or $0.50 each with a doubler, Totino's Party Pizza for as low as $0.92 each when you buy three or $0.58 each with a doubler, and General Mills Cereals for as low as $1.24 or $0.49 with a doubler.
Whole Foods – Get Whole Foods coupons later today. Our tips for saving money at Whole Foods.
Publix – Southern Savers posted this week's Publix grocery coupons. Highlights include free McCormick Grill Mates Seasoning, free Ronzoni Healthy Harvest Whole Wheat Pasta, Garden Delight Pasta, and free Lysol Disinfectant Trigger Spray Cleaner. Plus, a sweet deal on Ben & Jerry's or Starbucks Ice Cream for $1.39 or 39¢ if your store accepts Whole Foods.
ShopRite – Living Rich With Coupons posts this week's ShopRite coupons later today.
Fresh n Easy – The Deal Fanatic posts this week's Fresh n Easy grocery coupons later today.
Winn Dixie – My Baton Rouge Mommy shares Winn Dixie grocery deals. Highlights include WD seasonings, sauces or gravies for $0.75, WD macaroni & cheese dinner for $0.50, and Arnold 100% whole wheat or whole grain healthy classic multi-grain bread for $2.15.

Stop & Shop –
Look for this week's
Stop & Shop coupons
on Friday, the beginning of their sale cycle. Or shop by Thursday for this week's sale, including Fresh Gourmet Croutons for $0.50 after coupon, International Delight Flavored Coffee Creamer for as low as $0.40, and Resolve Laundry Stain Remover or Stain Stick for $0.50.
Kroger – Faithful Provisions shares this week's Kroger grocery coupons, including Kroger Pasta for $1, Dove Deodorant for as low as $1, and Tide Detergent for as low as $2.99 each when you buy two after savings & coupons. Plus, several back to school deals for for $0.50 and $1!
Wegman's – This week's Wegmans coupons will be up later today.
Harris Teeter – This week's Harris Teeter grocery coupons will be posted later today.
Trader Joe's – Healthy Life Deals shares this week's Trader Joe's deals, including organic lemons for $1.99 per pound, TJ Gluten Free Pancake and Waffle Mix for $2.99, and EnviroKidz Peanut Butter Puffs for $1.89. Our tips for saving money at Trader Joes.
Giant Eagle – Lady Savings posts this week's Giant Eagle coupon deals later today.
Grocery coupons – Get the latest grocery coupons from Coupons.com.
Redplum coupons – Get the latest coupons from Redplum.
New to coupons? Check out Bargain Babe's post on coupon clipping basics. If you want to take advantage of these deals, make sure to save the coupon inserts you receive in the mail or with your Sunday newspaper. Here's a great suggestion for how to handle coupon organization.