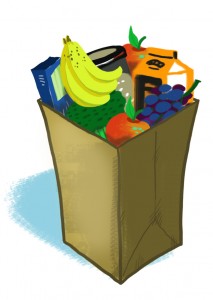 This list now includes grocery deals at Trader Joe's! Woot woot! Plus, online coupon links below.
Ralphs – The Ralphs prices assume coupon doubling up to $1. Get all the Ralphs coupons later today. Our tips for saving money at Ralphs.
Safeway/Vons – Get all the Safeway/Vons coupons and deals later today.
Albertsons – A Thrifty Mom post this week's Albertsons coupons. Highlights include Wish-Bone Salad Dressing for $0.62, Rice-A-Roni or Pasta Roni for $0.79, and Aussie or Herbal Essences Shampoo for $1.79.
Whole Foods – Get Whole Foods coupons later today. Our tips for saving money at Whole Foods.
Publix – Southern Savers posted this week's Publix grocery coupons. Highlights include Barilla Plus Multigrain Pasta for $0.64, Wet Ones Moist Towelettes for $0.79, and General Mills Honey Nut Cheerios for $0.99.
ShopRite – Living Rich With Coupons posted this week's ShopRite coupons. Highlights include free Nesquik Powder, free Carolina Brown Rice, and Edge Sensitive with Aloe for $0.14.
Fresh n Easy – The Deal Fanatic posts this week's Fresh n Easy grocery coupons. Highlights include California Seedless Grapes for $0.99 a pound, buy one get one free Fresh n Easy 100% California Extra Virgin Olive Oil, and Side by Side Wine for $5.99 per bottle.
Winn Dixie – My Baton Rouge Mommy shares Winn Dixie grocery coupons for this week. Highlights include Bull's Eye barbecue sauce for $0.65, Pepperidge Farm goldfish for $0.70, and Glade candles for $1.

Stop & Shop – Look for this week's Stop & Shop coupons on Friday, the beginning of their sale cycle. Or shop by Thursday for this week's sale, including five freebies! Highlights include free Ronzoni Healthy Harvest, Smart Taste or Garden Delight Pasta, free Lipton Natural Tea, and Red Pack Tomatoes for $0.25.
Kroger – Faithful Provisions shares this week's Kroger grocery coupons, including free Speed Stick Deodorant, Kellogg's Cereal as low as $0.99, Asparagus for $1.59 a pound, Raspberries for $1.50.
Wegman's – This week's Wegmans coupons and deals include sweet corn for $0.33 each, Secret Antipersperant/Deoderant Solid for $0.69, and V05 Shampoo/Conditioner for $0.77.
Harris Teeter – This week's Harris Teeter grocery coupons will be posted later today.
Trader Joe's – Healthy Life Deals shares this week's Trader Joe's deals, including Luna bars for $0.49, Natures Path Flax Plus Granola for $1.89, and Rudis Organic Hot Dog Buns $1.99. Our tips for saving money at Trader Joes.
Grocery coupons – Get the latest grocery coupons from Coupons.com.
Redplum coupons – Get the latest coupons from Redplum.
New to coupons? Check out Bargain Babe's post on coupon clipping basics. If you want to take advantage of these deals, make sure to save the coupon inserts you receive in the mail or with your Sunday newspaper. Here's a great suggestion for how to handle coupon organization.