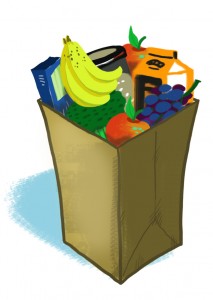 This list now includes grocery deals at Trader Joe's! Woot woot! Plus, online coupon links below.
Ralphs – The Ralphs prices assume coupon doubling up to $1. Get all the Ralphs coupons later today. Our tips for saving money at Ralphs.
Safeway/Vons – Save at Home Mommy shares this week's Safeway/Vons coupons including  5 free Kool-Aid Drink Mix,  Nabisco Snack Crackers or Toasted Chips for $0.88, and Bull's-Eye Barbecue Sauce for $0.50.
Albertsons – Get the full list of Albertsons coupons including Tide Laundry Detergent for $1.99, Healthy Choice Lunch Steamers, Natural Entrees, Select Entrees, or Kid Cuisine for $1.00 each, and Yoplait Yogurt Cups as low as $.50 each when you buy 10.
Whole Foods – Get Whole Foods coupons later today. Our tips for saving money at Whole Foods.
Publix – Southern Savers posted this week's Publix grocery coupons. Highlights include free Hunt's Tomato Ketchup, Ken's Steak House Dressing for $0.62, Ronzoni Pasta for $0.12, and Pompeian Imported Olive Oil for $1.99.

ShopRite – Living Rich With Coupons posts ShopRite coupons later today.
Fresh n Easy – The Deal Fanatic posts this week's Fresh n Easy grocery coupons later today.
Winn Dixie – My Baton Rouge Mommy shares Winn Dixie grocery deals this week. Highlights include Kraft Deluxe homestyle dinners for $1.50 each, Sanderson Farms split chicken breasts for $1.19 a pound, and sweet corn for $2 for 8.
Stop & Shop – Look for this week's Stop & Shop coupons on Friday, the beginning of their sale cycle. Or shop by Thursday for this week's sale, which includes 4 freebies! These are some of the deals: free Clif or Luna Bar, Ronzoni Healthy Harvest, Smart Taste, or Garden Delight Pasta as low as free with coupon, and General Mills Cereal as low as $1.00 each after coupon.
Kroger – Faithful Provisions shares this week's Kroger grocery coupons, including free Minute Maid Punch or Lemonade, Parkay Butter or Margarine for $0.25, and Special K Bars as low as $0.99.
Wegman's – This week's Wegmans coupons and deals include Crest Toothpaste for $0.69, Mom's Best Better Oats Hot Cereal  for $0.50, and Friendship Cottage Cheese for $0.89.

Harris Teeter – This week's Harris Teeter grocery coupons will be posted later today.
Trader Joe's – Healthy Life Deals shares this week's Trader Joe's deals, including Kashi TLC 7 grain Crackers for $0.79, Kashi Go Lean for $1.49, and Pacific Natural Almond Milk $0.69.
Grocery coupons – Get the latest grocery coupons from Coupons.com.
Redplum coupons – Get the latest coupons from Redplum.
New to coupons? Check out Bargain Babe's post on coupon clipping basics. If you want to take advantage of these deals, make sure to save the coupon inserts you receive in the mail or with your Sunday newspaper. Here's a great suggestion for how to handle coupon organization.