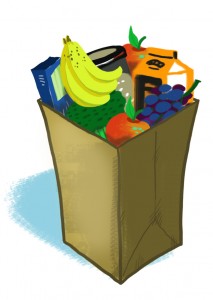 This list now includes grocery deals at Trader Joe's! Woot woot! Plus, online coupon links below.
Ralphs – The Ralphs prices assume coupon doubling up to $1. Get all the Ralphs coupons later today. Our tips for saving money at Ralphs.
Safeway/Vons – Get all the Safeway/Vons coupons and deals later today.
Albertsons – Save at Home Mommy posted this week's Albertsons coupons. Highlights include red seedless grapes for $0.99 per pound, honeydew melon for $0.69 per pound, and Pork Spare Ribs or Farmer John Pork Country Style Ribs or Sirloin Chops bone-in max pak for $1.99 per pound.
Whole Foods – Get Whole Foods coupons later today. Our tips for saving money at Whole Foods.
Publix – Southern Savers posted this week's Publix grocery coupons. Highlights include free Hunt's Tomato Ketchup, Ronzoni Pasta for $0.14, and Egg Beaters Egg Whites for $0.39.
ShopRite – Living Rich With Coupons posted this week's ShopRite coupons. Highlights include 11 freebies that include French's Spicy Brown Mustard free after coupon, Chicken of the Sea Chunk Light Can free after coupon, and Honest Tea free after coupon.
Fresh n Easy – The Deal Fanatic posted this week's Fresh n Easy deals. Highlights include F&E Adobo Beef Steaks, Tequila & Orange Chicken Breast or Southwestern Boneless Skinless Chicken Thighs at $10 when you buy 2, F&E Filleted Tilapia for $5.99 per pound, and F&E Organic Orange Juice for $3.99.
Winn Dixie – My Baton Rouge Mommy shares Winn Dixie grocery deals. Highlights include Orville Redenbacher's microwave popcorn as low as $0.95 each, Large dozen eggs for $0.99, and Colgate toothpaste for $0.25.
Stop & Shop – Look for this week's Stop & Shop coupons on Friday, the beginning of their sale cycle. Or shop by Thursday for this week's sale, including YoCrunch Yogurt as low as free after coupon, Kraft Barbecue Sauce as low as $0.10 each after coupon, and Ocean Spray Cranberry Cocktail Juice $0.66 each after coupon.
Kroger – Faithful Provisions shares this week's Kroger grocery coupons, including Nabisco Snack Crackers for as low as $0.49, Oscar Mayer Bologna or Hot Dogs for as low as $0.95, and Heinz Ketchup for as low as $0.99.
Wegman's – This week's Wegmans coupons and deals include Wegmans Liquid Soap Pump for $0.69, Bar-S Jumbo Franks for $.49 each, and Ortega Green Chiles for $.049 each.

Harris Teeter – This week's Harris Teeter grocery coupons will be posted later today.
Trader Joe's – Healthy Life Deals shares this week's Trader Joe's deals including Kashi TLC 7 grain Crackers for $0.79, Luna bars for $0.49, and Pacific Natural Almond Milk for $0.69.  Our tips for saving money at Trader Joe's.
Grocery coupons – Get the latest grocery coupons from Coupons.com.
Redplum coupons – Get the latest coupons from Redplum.
New to coupons? Check out Bargain Babe's post on coupon clipping basics. If you want to take advantage of these deals, make sure to save the coupon inserts you receive in the mail or with your Sunday newspaper. Here's a great suggestion for how to handle coupon organization.