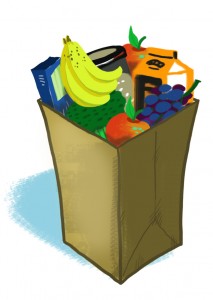 This list now includes grocery deals at Trader Joe's! Woot woot! Plus, online coupon links below.
Ralphs – The Ralphs prices assume coupon doubling up to $1. Get all the Ralphs coupons later today.
Safeway/Vons – Get all the Safeway/Vons coupons and deals later today.
Albertsons – Get the full list of Albertsons coupons later today.
Whole Foods – Get Whole Foods coupons later today. Our tips for saving money at Whole Foods.
Publix – Southern Savers posted this week's Publix grocery coupons. Highlights include free Voskos Greek Yogurt with coupon, Organic Valley Half & Half for $0.89, and Nestle Coffee Mate Creamer for $0.95.
ShopRite – Living Rich With Coupons posted this week's ShopRite coupons. Highlights include Revlon Eye Products possibly as low as $0.77, Santa Cruz Organic Lemonade free after coupon, and Luna Bar free after coupon.
Fresh n Easy – The Deal Fanatic posts this week's Fresh n Easy grocery coupons later today.
Winn Dixie – My Baton Rouge Mommy shares Winn Dixie grocery deals later today.
Stop & Shop – Look for this week's Stop & Shop coupons on Friday, the beginning of their sale cycle. Or shop by Thursday for this week's sale, including Ronzoni Pasta as low as free with coupon, Francesco Rinaldi Spaghetti Sauce as low as $0.25 each after coupon, and Heinz Ketchup as low as $0.99 each after coupon.
Kroger – Faithful Provisions shares this week's Kroger grocery coupons, including mangoes for $0.68 each, Wish-Bone salad dressing for as low as $0.67 with coupon, and Ragu pasta sauce for as low as $0.69 with coupon.
Wegman's – This week's Wegmans coupons and deals include Friendship Cottage Cheese for $0.89, Wegmans Panko White Bread Crumbs for $0.99, and Stonyfield Oikos Greek Yogurt $0.75 with coupon.
Harris Teeter – This week's Harris Teeter grocery coupons will be posted later today.
Trader Joe's – The Thrifty Mama shares this week's Trader Joe's deals, including YoBaby 4pk as low $2.69 each after coupon, Lightlife Gimme Lean for $1.69 each after coupon, and Lightlife Smart Dog for $1.99 each after coupon.
Grocery coupons – Get the latest grocery coupons from Coupons.com.
Redplum coupons – Get the latest coupons from Redplum.
New to coupons? Check Bargain Babe's post on coupon clipping basics. If you want to take advantage of these deals, make sure to save the coupon inserts you receive in the mail or with your Sunday newspaper. Here's a great suggestion for how to handle coupon organization.