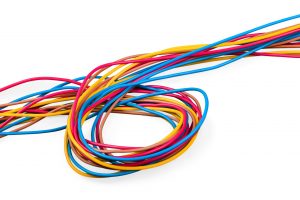 Is your life in a pile? Or, more specifically, 2,634 piles, covering every flat surface in your house? Every box, every bauble, every bill… in a pile… somewhere. Are you so fed up that you contemplate dropping a wad at Pottery Barn, in hopes that their products will make your home look like their catalog? Take a deep breath. Frugal organizing hacks to the rescue.
Today we're starting with the seemingly-simple but exasperatingly-everywhere issue of CORDS!
Here are 7 frugal organizing hacks for taming cords:
1. Use bread clips to label cords at the power strip for easy identification. Curbly.com has a great idea for making your own "bread clips" out of an old milk jug and a hole punch if you don't want to buy a year's worth of bread! Cost: FREE.
2. For infrequently-used cords, stash them inside of a toilet paper roll and store the paper rolls inside of a shoe box. Make sure to label the cord with a bread clip or tape, or at least label the paper roll. If you're crafty, you can make this project look cute by covering the toilet paper rolls with wrapping paper or washi tape. Cost: FREE, or a few bucks to make them fancy looking.
3. Family Handyman magazine uses binder clips to secure and route cords along the back/side of a desk or bookshelf, keeping them at hand and preventing them from falling off the side. My husband paid $15 for a fancy cord organizer for his desk, but the binder clips seem to work as well for a fraction of the cost. Cost: about $2 for a box of 10-12 clips.
4. Place a shoe box behind speakers or TVs, or any other place where you are using a power strip and don't regularly need to plug/unplug the cords you have there. Place the power strip in the shoe box, and wrap excess cord length neatly inside the box, cutting a hole in the lid or side for each cord to come out through. The box will reduce dust bunny collection, tangling, and the dreaded "medusa look." If the box is visible, you can cover it with wrapping paper or fabric. Cost: FREE (unless you buy new shoes!).
5. Check out this RealSimple example of using an old sock with the toe cut out to tame wild cords behind desks or chairs. Cost: FREE (if you have an old sock) or about 50 cents at Goodwill.

6. You're probably already using rubber bands and twist ties to contain excess cord length. Pipe cleaners are also highly functional and endlessly reusable (and can be color coded). If you want a high quality long-term solution, you can purchase reusable, self gripping Velcro cable ties (pictured, $6.98 for 100 at Amazon). Cost: $1 at the dollar store.
7. For travel, consider using an old cassette tape holder, jewelry box, playing card box, or Altoids tin for headphones and small chargers. If you're traveling with multiple devices, use Ziploc sandwich bags for individual cords, collected together in a freezer bag, to prevent tangling in your suitcase. Cost: FREE with items on hand, or a few dollars for Ziploc bags.
What are your tips and tricks for taming cords?
Also, let us know in the comments what other organizational areas/issues you'd like to see hacked!