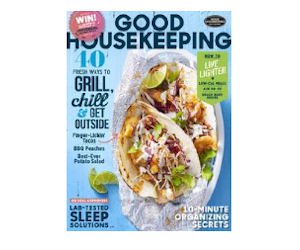 Free Good Housekeeping Magazine- Click here to start your free subscription to Good Housekeeping Magazine, courtesy of Mercury Magazines. 
Free Hollywood 2-Minute Glow (Facebook account required)– Click here to send a sample to your friend, or request one to try for yourself!
Free Goody Bag with Baby Registry– Buy Buy Baby is offering a Free Goody Bag when you sign up for their baby registry and add items to it in store. Click here for more info!
Free Betty Crocker Offers and Coupons– Sign up for the Better Crocker Fan Club and receive tons of coupons, recipes & more! Click here to subscribe and then watch your email!
Free Subscription to "O" Magazine- Get a free subscription to O Magazine courtesy of Mercury Magazines. Simply click here and fill in your mailing details; and allow 6-10 weeks for delivery.
Free Sample of TummyZen Total Heartburn Relief– Look at the very bottom of this page and find the "click here" button. Once you've clicked through you'll get a pop-up that you can use to request your free TummyZen. Available while supplies last.
Free Sample of Purina One Pure Instinct (Facebook required)- Click the "Learn More" button here and fill in the form to request your free sample of Purina One Pure Instinct. You'll receive in 6-8 weeks for delivery.
Free "The Secret Garden" Kindle Book– For a limited time, download a free kindle ebook of The Secret Garden, by clicking here, adding to cart and checking out. (Make sure the total is still $0, since Amazon is notorious for changing their prices so frequently).
Free Sample of O My! Goat Milk Soap-According to their Facebook fans, O My! Goat Milk Soap wants to send you a free sample. Simply complete the form to request their catalog here and your trial soap will be sent as well!
Free Box of Ziploc Sandwich Bags at Kmart (Texting required)- Text ZIPLOC to 56278 and you'll get your coupon via text, redeemable through 8/5/17 for a free box of Ziplock Sandwich bags. And who doesn't need more of those? Available while supplies last.
Free QR & Barcode Scanner PRO App-Free App Alert for Android owners! Right now you can get the QR & Barcode app for free; just click through and download it here. That's a $3.99 value, for free while supplies last!
Free Rachael Ray PEAK Dog Food-Free dog food again from Rachael Ray! Click here to print your coupon, but don't wait on this one, it goes fast!
Free Gulp Size Fresh Brewed Iced Coffee with the 7-Eleven App-Download the 7-Eleven app and open it to get a coupon for a free coffee at 7-Eleven! Offer expires 8/31/17.
Free ProactivMD Acne-Fighting System with Crowdtap-Register or log in to your account to apply and see if you qualify for this offer for ProactivMD Acne-Fighting System! Available for a limited time!
Free Magazine Subscriptions– More free subscriptions from RewardSurvey. Click here and start taking surveys to earn fun subscriptions to great titles like: Women's Health, ELLE, Entertainment Weekly, People, GQ and more!
Free Airheads Bites or Bars from Kroger- Kroger & Affiliates can get a free ecoupon for Airheads Bites or Mini Bars this Friday August 4! Coupon can be redeemed through the 20th!
Free Marc Anthony Deep Conditioning Treatment- (Facebook required) The first 500 fans to leave a review for any Marc Anthony Hair Care product can receive a free Marc Anthony Deep Conditioning Treatment. Get more details here!
Free Coffee, Gulp Drink, Slurpee or Gulp Iced Coffee at 7-Eleven- On August 1st from 7am-11pm, drop by a participating 7-Eleven location to get your free drink! Just say, 'Cheers to National Night Out'.
This post contains affiliate links.