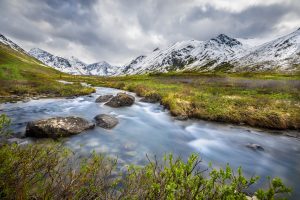 Planning a summer vacation? Keep in mind that there are hundreds of places you can camp for free, making the great outdoors a true bargain. Kevin Mack, who is campaign director at the Wilderness Society in Washington, D.C., and I talked last year about free camping options. Many are rustic – but not all!
Wilderness areas – the most protected land in the U.S. may require a permit but often there is no fee. Mechanized travel is not allowed, so no cars or bikes. Campgrounds are not carved out like at national parks and there is no running water or toilets. You can park on the edge of a wilderness area and hike in, or go by horseback, kayak, or canoe. Once you get there you can hunt, fish, hike and rock climb. For more info visit Wilderness.net, which has a handy map of wilderness areas.
BLM land – a whopping 89 percent of Bureau of Land Management territory does not cost anything to camp on. Some areas require a permit, others don't. Most are unmarked and waiting for you to find them. Typically, BLM land has minimal or no services (like running water, pit toilets, or designated campsites). You may be able to drive in on a 4-wheel vehicle, hike in, or park on the road and pitch a tent. "But it doesn't have to be  a primitive experience," Kevin said. "I have done car camping on BLM land. You can bring a cooler and have a gin and tonic at the end of the day. The only difference is you are by yourself and you have to think creatively about your bathroom facilities." About 10 percent of BLM land is managed by the National Landscape Conservation System, which offers more traditional camping options.
National Forests – most are free to camp in and ideal for folks comfortable looking at a map and contacting the local ranger station for info. You don't have to be a burly man or 20-something backpacker, Kevin said. "Just be willing to step off the paved road…and drive down a dirt road and chose your own camp spot," he said. National forests that are highly trafficked usually have fees. Search for sites by state on this page.
RV sites for less than $10 a night – if you RV, check out FreeCampgrounds.com, which lists places to park overnight by state for less than $10. The list includes parks, rest areas, store parking lots, and more. The site also lists Wal-Mart stores that do NOT allow overnight parking.
FreeCampground.com – this site lists a limited number of free sites by state. There were just seven free campgrounds in California, two in Florida and one in New York.
Are you taking a vacation this summer? What kind? I want to take a vacation that combines a few days vegging on the beach and a few days visiting museums and exploring a new city.