Psyched to announce a new contest today with two really awesome prizes!!! Enter to win a $250 Amazon gift card and a $50 Amazon gift card – just for checking out a new grocery site that saves you money AND time. The coolest thing about the site – FitFin.com – it's psychic!!! It tells you how much you're going to spend before you leave your house!
Enter to win $300 in Amazon gift cards
I wasn't kidding when I said FitFin is psychic.
FitFin has a huge database of grocery prices. So when you enter in "whole milk," it knows about how much a gallon of milk costs in your neighborhood. (You share your zip code when you first sign up.) Why is this important? 
Because when you tap your grocery list into FitFin, it adds up everything you're about to buy. The total is an estimate, but it's a close estimate. So you know what you can afford to buy each week. Can you add a few items to your list this week? Or should you pare down?
Grocery shopping has never been easier
Fact: 80% of your groceries you buy every week.
Make one list of your repeat items, then just add whatever you happen to need that week.
Make spending decisions before you get sucked into splurging at the store.
Track how much you spend on groceries each week.
Never lose a receipt! FitFin saves your receipts – just snap a pic!
Never forget your grocery list at home.
Save shopping lists for ALL your grocery stores.
Add items to your grocery list at any time – just grab your smartphone.
Organize your list to reflect how you go through the store, so you never have to circle back.
Use FitFin on your smartphone or tablet in the store – the site is optimized for smaller screens!
Contest rules
There are two prizes in this contest.

The same person cannot win both.
One $250 Amazon gift card goes to the person who accumulates the most points through the contest.
One $50 prize goes to a random winner who enters the contest, regardless of how many times they enter.
The contest runs Monday, Nov. 3, 2014 to Sunday, Nov. 16, 2014.
How to get points to win a $250 Amazon gift card – the most points wins!
5 points for creating an account on FitFin (this step is not required, but most of the entry methods involve creating an account). One account per user.

3 points for creating a grocery budget in FitFin (mine is $600 a month)

3 points for creating a grocery list in FitFin

3 points for adding an item to your grocery list (3 points each for the first five items)

2 points for each grocery item you add (after the first 5 items)

You can also enter via Rafflecopter, below.

Get 3 entry points for tweeting about the contest. Click "Tweet about the giveaway." Then click the blue Twitter bird, and then copy the url of your tweet into the entry box. Phew!
Get 3 points for commenting on this blog post with feedback for FitFin.com.
Make sure you use the same email in Rafflecopter and Fitfin for the points to count towards the same account!
a Rafflecopter giveaway

TIP–> You can rack up a ton of entries in one day, or stretch it out over a few days.
Screenshots of how to get entry points
This is what the registration page looks like. Pretty basic and quick.

2. Create a grocery budget in FitFin (3 points)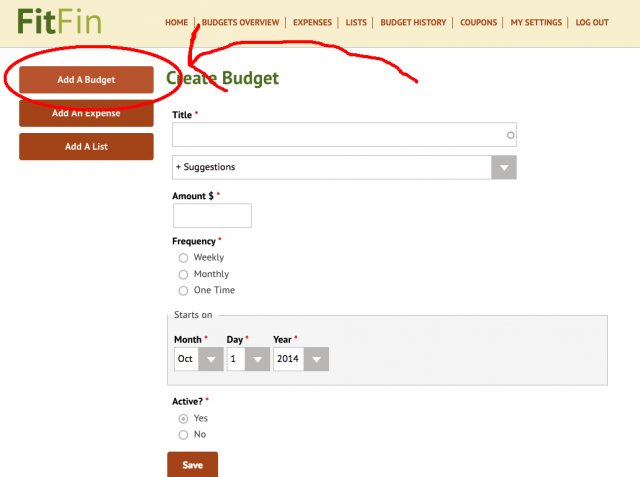 3. Create a grocery list in FitFin (3 points)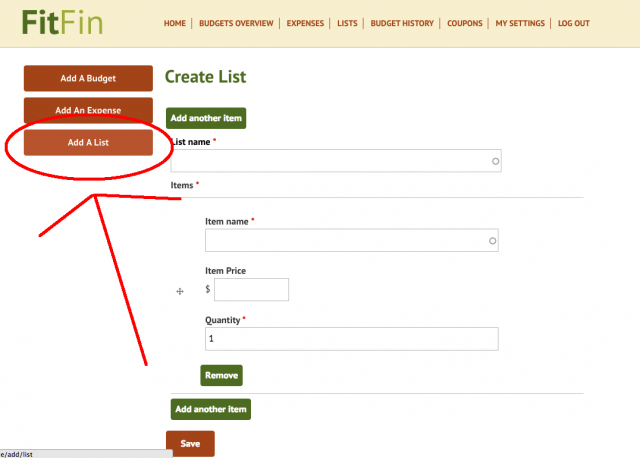 4. Add a grocery item to your grocery list (3 points for first 5 items, 2 points thereafter)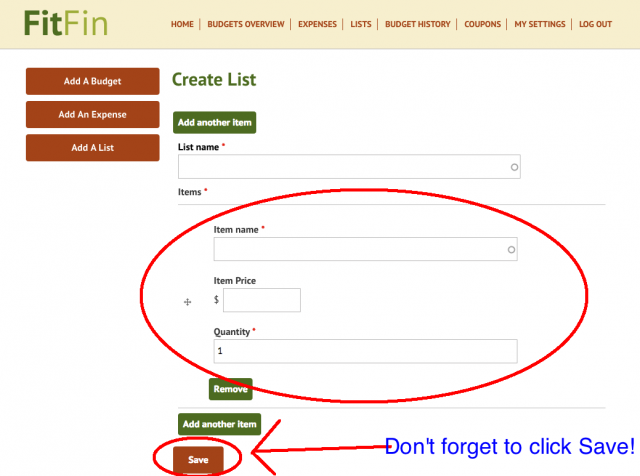 Enter as many times as you want!!! And GOOD LUCK!