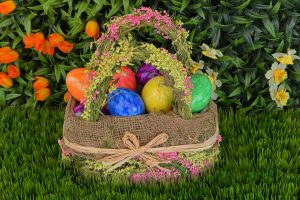 Where are you shopping for Easter candy and decorations? The 99 Cents Only Store and other dollar stores have plenty of Easter goodies. I like shopping the dollar stores for disposable items that aren't going to last long. Why pay more?
Here are Easter items you can pick up at 99 Cents Only.
Easter baskets and grass (or use shredded newspaper)
Easter themed candy – Russell Stover candy eggs  are 2 for $.99
Fillable plastic eggs prefect for egg hunts!
Chocolate covered marshmallow chicks (8-packs)
Easter gift bags
My Mom liked to hide our Easter baskets around the house along with chocolate eggs and jelly beans. Hunting for my basket with only "hot" and "cold" clues could be quite a trial and sometimes took more than an hour. One year she taped my basket to the underside of our dinning room table that had a floor-length tablecloth. Another year it was buried deep in the recycling. Once I found it, underneath a chocolate bunny and other candy was a small present, like new underwear or socks. My Mom always made Easter so fun!