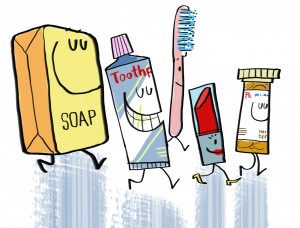 Get online coupons for these stores below. Reduce your grocery bill with Grocery University, a set of audio lessons crafted to save a lot more than you think you can on groceries.
CVS – Bargain Briana has all the CVS coupon deals for this week, including Children's Allegra Allergy 12 Hour or Liquid for free, Good 'n Natural for free, U by Kotex Liners (40-60 ct), Pads (14-18 ct), or Tampons for free, and Mars Chocolate Singles for free.

Walgreens – Get all the Walgreens coupon deals for this week. Highlights include Complete Multi-Purpose Solution for free, Dickinsons Witch Hazel for free, Renew Life First Cleanse for free, Lanacane Maximum Strength Anti-Itch Cream for free, U by Kotex Feminine Care Sleek Tampons for free, and Accu-Chek Aviva Blood Glucose Monitor for free.
Target – This week's list of Target coupon deals includes Go to Target's online coupons.
Rite Aid – Common Sense with Money has the Rite Aid coupon deals including Stayfree, Carefree or o.b. for $1.50 each after +UPR, YooHoo Chocolate Drink, Hawaiian Punch, Poland Spring Spring Water for pay $.75 each after +Up Reward, and 8 x 10 Photo Collage or Photo Enlargement for $.49 each after +Up Reward.
Staples – Hip 2 Save lists the hot Staples coupons later today. Go straight to the Staples site.
Coupon Database – Get all the latest coupons from online sources, magazines, and in store offers through our free Coupon Database.
Drugstore rewards comparison – Bargain Babe recently compared the drugstore rewards programs for CVS, Rite Aid and Walgreens to determine which store has the best policy.
New to coupons? Check out Bargain Babe's post on coupon clipping basics. If you want to take advantage of these deals, make sure to save the coupon inserts you receive in the mail or with your Sunday newspaper. Here's a great suggestion for how to handle coupon organization. Clicking on these coupon links supports BargainBabe.com. This post is copyrighted by BargainBabe.com. Any other site posting this content is violating the DMCA.