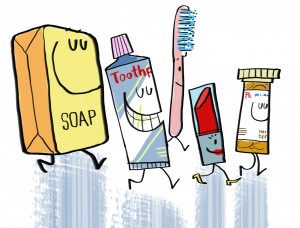 Get online coupons for these stores below. Reduce your grocery bill with Grocery University, a set of audio lessons crafted to save a lot more than you think you can on groceries.
CVS – Bargain Briana has all the CVS coupon deals for this week, including Purex Complete Crystals Softener or 3-in-1 Laundry Sheets is buy one get one free, Ajax Dish Liquid for as low as $0.49, and Q-Tips for $1.74.
Staples – Hip 2 Save lists the hot Staples coupons including Marcal Small Steps 100% Recycled Bath Tissue Rolls 12-pack for $4.99 after instant savings! It's regularly $14.99. Go straight to the Staples site.
Target – This week's list of Target coupon deals will be posted later today. Go to Target's online coupons.
Walgreens – Get all the Walgreens coupon deals for this week including lots of freebies! Highlights include free Neoteric Diabetic Shampoo & Scalp Care, free AZO Maximum Strength Itch Relief, free Estroven Maximum Strength, and Scunci Hair Accessories for $0.99.
Rite Aid – Common Sense with Money has the Rite Aid coupon deals including Wrigley's Big Red, Juicy Fruit or Double Mint Gum or Orbit's for as low as free, Ricola or Halls Cough Drops or Blistex Lip Balm for as low as free, L.A. Looks, Dep, La Bella, Monkey Brains Stylers or Prell for as low as free, and Culturelle Probiotic, Digestive Aid or Estroven Maximum Strength for free after +Up Reward.
Coupon Database – Get all the latest coupons from online sources, magazines, and in store offers through our free Coupon Database.
Drugstore rewards comparison – Bargain Babe recently compared the drugstore rewards programs for CVS, Rite Aid and Walgreens to determine which store has the best policy.
New to coupons? Check out Bargain Babe's post on coupon clipping basics. If you want to take advantage of these deals, make sure to save the coupon inserts you receive in the mail or with your Sunday newspaper. Here's a great suggestion for how to handle coupon organization. Clicking on these coupon links supports BargainBabe.com.
Print FREE Grocery Coupons at Home