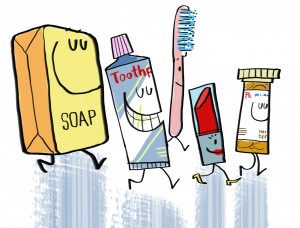 Get online coupons for these stores below.
Target – This week's list of Target coupon deals includes Wet Ones Travel Pack for $0.49, Crayola Colored Pencils for $0.99, Mead Notebooks, and Folders and Composition Books for $0.99. Go to Target's online coupons.
Staples – Hip 2 Save lists the hot Staples coupons including back-to-school deals! Highlights include free BIC Brite Liner Grip Yellow Highlighters after rebate, Staples Steel 1-hole Punch for $0.99, and RoseArt Classic Washable Markers for $1. Plus, lots more $.50 deals.
CVS – Bargain Briana has all the CVS coupon deals for this week, including free Paper Mate Grip Pens, Crest Pro Health, Scope Outlast, or 3D White Toothpaste for as low as free, and U by Kotex Liners, Pads, or Tampons for $0.49.  Walgreens – Get all the Walgreens coupon deals for this week including six freebies! Highlights include free Irish Springs Deodorant or Body Wash, Scunci No Damage Hair Elastics for free when you buy two, and free W Perfection Tampons.
Rite Aid – Common Sense with Money has the Rite Aid coupon deals including Listerine Pocket Packs or Reach Toothbrushes for as low as free, Clairol Herbal Essence or Aussie Shampoo, Conditioner or Styler for as low as $1 each, and Mead Marble Composition Book for $0.33.
Online coupons – Get the latest grocery coupons from Coupons.com.
Redplum coupons – Get the latest coupons from Redplum.
Drugstore rewards comparison – Bargain Babe recently compared the drugstore rewards programs for CVS, Rite Aid and Walgreens to determine which store has the best policy.
New to coupons? Check out Bargain Babe's post on coupon clipping basics. If you want to take advantage of these deals, make sure to save the coupon inserts you receive in the mail or with your Sunday newspaper. Here's a great suggestion for how to handle coupon organization. Clicking on these coupon links supports BargainBabe.com.