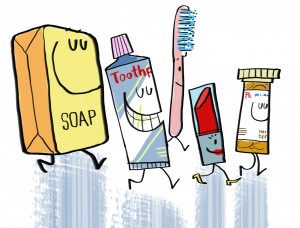 Get online coupons for these stores below.
Target – This week's list of Target coupon deals includes $2 off Revlon Grow Luscious Mascara, and deals on Windex cleaner, Breyer's ice cream, and Sutton & Dodge USDA choice beef. Go to Target's online coupons.
Staples – Hip 2 Save lists the hot Staples coupons later today or tomorrow. None posted since the 15th, however.
CVS – Bargain Briana has all the CVS coupon deals for this week, including free Vitaminwater or smartwater, and Bic Soleil Shimmer Razor plus Crest Toothpaste or Kid's Toothpaste for $0.24.
Walgreens – Get all the Walgreens coupon deals for this week. Highlights include free Listerine Smart Rinse, free Ritz Crackerfuls, and Act II Popcorn for $0.25.
Rite Aid – Coupon Cravings has the Rite Aid coupon deals posted, including free Renpure Organics Shampoo or Conditioner, Speed Stick or Lady Speed Stick Deodorant for $.49, and Crest Toothpaste (Twin-Pack) for $.99
Online coupons – Get the latest grocery coupons from Coupons.com.
Redplum coupons – Get the latest coupons from Redplum.
Drugstore rewards comparison – Bargain Babe recently compared the drugstore rewards programs for CVS, Rite Aid and Walgreens to determine which store has the best policy.
New to coupons? Check out Bargain Babe's post on coupon clipping basics. If you want to take advantage of these deals, make sure to save the coupon inserts you receive in the mail or with your Sunday newspaper. Here's a great suggestion for how to handle coupon organization. Clicking on these coupon links supports BargainBabe.com.