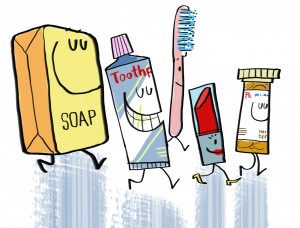 Get online coupons for these stores below.
Target – This week's list of Target coupon deals includes Dentyne for $.04, and deals on L'Oreal hair color, Physicians Formula, and AcneFree. Go to Target's online coupons.
Staples – Hip 2 Save lists the hot Staples coupons later today or tomorrow. None posted since the 15th, however.
CVS – Bargain Briana has all the CVS coupon deals for this week, including free Trident and Free Revlon nailpolish with Extra Bucks, plus Listerine or Reach products for $1.69.
Walgreens – Get all the Walgreens coupon deals for this week. Highlights include free Pantiliners, free hair elastics, and Pure Silk Shave Gel for $.49 with coupon. Get $5 off $30 or $10 off $60 with Walgreens coupon codes
MEMORIAL5 and MEMORIAL10, respectively. Or use Walgreens coupon code
MAYBOOKS to get 40% off photo books.
Rite Aid – Common Sense with Money has the Rite Aid coupon deals including Coppertone Kid Sticks for $1.49 each when you buy two with coupons and rewards, free Carefree Pantiliners, and New York Bagel Chips for $.50 with coupon. Check out the monthly Rite Aid flyer for buy one get one free coupons on Rite Aid brand first aid products and facial tissues.
Online coupons – Get the latest grocery coupons from Coupons.com.
Redplum coupons – Get the latest coupons from Redplum.
Drugstore rewards comparison – I recently compared the drugstore rewards programs for CVS, Rite Aid and Walgreens to determine which store has the best policy.
New to coupons? Check out my post on coupon clipping basics. If you want to take advantage of these deals, make sure to save the coupon inserts you receive in the mail or with your Sunday newspaper. Here's a great suggestion for how to handle coupon organization. Clicking on these coupon links supports BargainBabe.com.