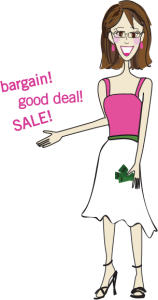 Here is the clip of the interview I did on Marketplace Money, which runs on NPR across the country. The story is "Tips for staying financially fit."
As reader Harvey commented on my post Friday about the radio spot, "It is the January 7, 2011 edition. You are near the beginning — the fifth and last blogger to be interviewed. You can listen directly or download the podcast." You can also read the transcript of the entire clip, though it's fun to hear my voice on the radio (at least, for me it is!).
Thanks for summing it up and providing a link, Harvey!