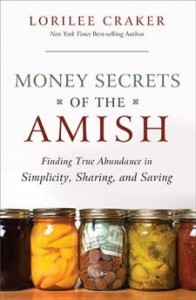 I was really excited to receive "Money Secrets of the Amish," by Lorilee Craker, who is the author of eleven books including New York Times bestseller "Through the Storm" with Lynne Spears (Britney Spears' mother). Win my copy below.
The title tickled my curiosity about the Amish way of life. How frugal are they?
Like me, Craker wanted to learn more about the Amish after hearing they were thriving during the recession on NPR. Being a Mennonite and a journalist, she wanted to know more as her own financial situation tightened. Craker writes:
In contrast to my paranoia about being overleveraged and underfunded, the Amish were at peace, unruffled, and rich in contentment. As I dug deeper, I realized that these Plain people could teach me a thing or two about money, and what I could do, not only to hold on for dear life during this recession, but to actually thrive.
In the 224-page book, Craker learns about the money decisions Amish people live by and pass down. She interviews several people about their savvy spending habits. She'll teach you tips for secondhand shopping, saving for a rainy day, and more. My favorite chapter in the book is about talking to children about money to show them self control and delayed gratification. The book is an easy read as it's not a traditional financial book.
To win my review copy, let me know how the recession changed your financial situation. Can't wait to read the book? Buy it on Amazon for $10.87 (orig. $15.99). Comment by Thursday Oct. 20, 2011 at 11:59 p.m. EST to be eligible to win. The winner will be announced Friday!