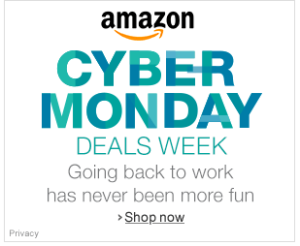 Today, Dec. 3, you can score some great deals on kitchen tools, kids toys, jewelry, gift baskets and more with Amazon Lightning Deals
. Lightning deals offer HUGE savings on top brands and highly rated items for a limited time (usually around 3 hours or while supplies last!). These items tend to go quickly so it's important to snag the deal as soon as possible.
Even better, you can score 30 minute early access to these deals and get FREE 2-day shipping on your Amazon.com purchases with a FREE 30 day trial of Amazon Prime. Wow! Here is a list of some of our favorite deals.
Amazon Lightning Deals – prices revealed when live!
Electric Blanket – 11 AM ET
Ceramic Knives with Block (5 Piece Set) – 11:30 AM ET
Disney Frozen Dual Vanity with Sparkle Princess Anna and Elsa – 12 PM ET
Professional Food Dehydrator – 12 PM ET
Stackable Measuring Cups – 12:30 PM ET
The Pout-Pout Fish Tank: A Book and Fish Set – 1 PM ET
Organic and Natural Healthy Gift Basket – 2 PM ET
Fireman Sam Fire Station – 4 PM ET
Summer Infant Clear Sight Digital Color Video Baby Monitor – 5 PM ET
Lil' Rider Battery-Powered Red Raptor 4-Wheeler – 6 PM ET
ProjeX Heavy Duty Work Gloves – 7 PM ET
Rhinestone Party Dress – 7:30 PM ET
Talking Figures Power Projector Buzz Lightyear – 8 PM ET
0.08 ct 3 Heart Diamond Pendant – 9 PM ET
Planes Fire & Rescue U-Comm Fire and Rescue Blade Ranger – 10 PM ET
Skywatch Men's Chronograph Swiss-Made Watch – 10:30 PM ET