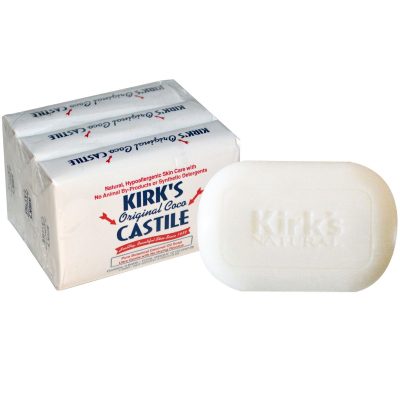 I love natural, unscented soap products. For many years, I used a wonderful face soap from Origins. The last time I went to the mall specifically to get this product, I was told that it was no longer manufactured. I was given a phone number for the Origins "Gone but Not Forgotten" department, which will scour the warehouse to look for your no-longer manufactured product. I had to pre-approve the payment on my credit card for the soap and shipping just in case they found any bars. Plus, there was no discount! I was paying full price – $20 per bar. I REALLY like this soap. However, I even if they find the soap in the warehouse, they will be manufacturing no more of this soap.
In search of a new soap brand, I was looking at a huge row of soaps in the supermarket and happened to notice (on the bottom shelf) a bar of Kirk's Original Coco Castile Soap. The name rang a bell, perhaps because the company has been manufacturing this soap since 1839. I have never used the product before  but was willing to take a chance. After all, it is hypoallergenic, contains no animal by products, no synthetic detergents, is biodegradable and is never tested on animals. Plus it moisturizes your skin.
I grabbed up Kirk's cute little red, white and blue package and invited it to take a shower with me.
I love this soap. And this isn't even the unscented version, which I am going to try next. The scented version had a very mild scent. It created a great lather, yet the soap rinsed off easily and completely leaving my skin feeling soft and silky (just like the ads say.)
Cost of this wonderful of bar of soap? $1.99.
How can this fabulous bar of soap be so cheap and yet, so good? I don't know. But, I do know that this soap isn't alone. Kirk has a line of shampoos and conditioners that I am certainly going to try.
Do you have an affordable natural product?  Share your secret with the rest of us.
This post contains affiliate links.