There are many ways to express your love this Valentine's Day – in a fun and frugal way. With a little DIY creativity, you can make it a special day for those you love.
6 Ways to Show Your Love This Valentine's Day
1. Valentine's Day Breakfast (above). Wow your love with this sweet breakfast idea by Wilton. There are so many ways you can vary this – trade a bagel for the donut, strawberries for the raspberries, etc. Be creative and don't be afraid to get the kids involved!
2. Gummy Bear Heart Cookies. This is one recipe my kids will be really excited about. This idea, from One Little Project, involves baking with gummy bears! Use red or any colors you like. Blogger Alicia says, "The chewy and sweet gummy centers are the perfect contrast for the buttery and crumbly shortbread cookies!"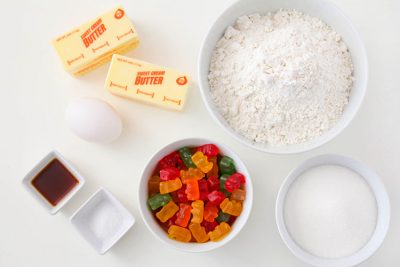 3. DIY Emoji Valentines. What you need: yellow, black, red, blue and white paper, scissors, glue and printable emoji face PDFs available for free from the Housing a Forest Blog. These Valentine's will have your kids laughing-crying or smiling with heart eyes!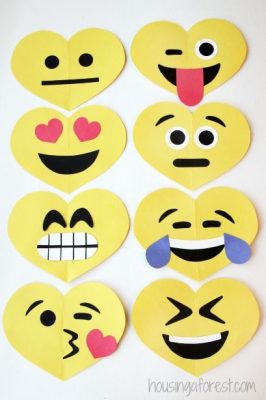 4. Heart Thumbprint Platter. This idea, from Simply Kierste Design Co., would make a great gift for a parent or grandparent this Valentine's Day because "it captures a moment in time that is so fleeting–it won't be long before their fingerprints will be bigger." What you need: a white serving platter, glass paint and a Sharpie. We love this!
5. Chocolate Bars Made Special With Free Valentine's Day Wrapper Downloads. Is there someone you love more than chocolate? Just print the labels, trim to size and secure with glue. These labels are designed to fit Ghirardelli chocolate bars. For free downloadable wrappers, visit Pen + Paper Flowers.
6. Valentine's Day Strawberry Sugar Scrub. Who doesn't love a little pampering? This DIY body scrub is organic and easy to make. All you need is sugar, freeze-dried strawberries, organic virgin coconut oil and vanilla extract. For the complete recipe, visit Totally the Bomb.
Are you going to DIY this Valentine's Day?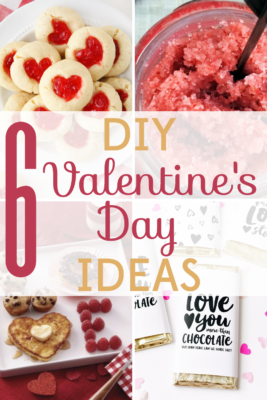 This post contains affiliate links.