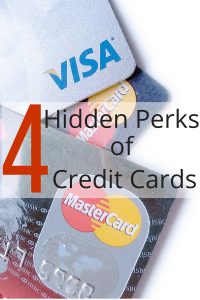 When used responsibly, credit cards can make life easier. They can help you finance large purchases, earn rewards and build credit history. But that's not all. Many cards offer additional benefits that could save you thousands of dollars. But because these benefits are rarely well-publicized, you may not even know they exist. Here are four common perks you might not know about:
1. Price protection. It happens to everyone: You shell out good money for something, only to see the same item on sale a week later. That's where price protection comes in, if you paid with certain credit cards. "You get a refund for any price drops, regardless of the retailer and the retailer's policies," says Sean McQuay, NerdWallet's resident credit cards expert. Say, for example, you just bought a fridge and now see it for $100 cheaper, not counting the taxes and delivery costs you paid. If you file a claim, you may be reimbursed for that $100.
Keep in mind that the sale product must exactly match the one you bought, down to the manufacturer and model. That's why price protection works best for standardized products, like game consoles or washing machines, McQuay says.
Price protection policies, such as the amount of time you have to claim a refund on an item after purchase, vary by issuer, and you may need to register the item you purchased with the credit card company before receiving a refund. Check your card agreement to see if you have this benefit and what you need to do in case of a claim.
2. Extended warranty. For some items, many credit cards will tack on an extra period of coverage that matches the terms of the manufacturer's warranty.
Note that this perk isn't typically offered for items such as computers or cars. However, for purchases that are covered — say, a dishwasher or Xbox — this coverage can save you money on repairs and replacements.
To take advantage of an extended warranty, keep your original receipt and warranty, which you'll likely have to produce if you submit a claim. You may also need to register this item online in advance with the credit card company. "It can be a great service," McQuay says. "You simply need to plan ahead." Check to see if any of your cards offer this coverage.
3. Purchase protection. This feature is like a combination of price protection and extended warranty. It essentially covers items that you bought with a credit card if they are lost, stolen or too damaged to be returned within a certain period of time after you've purchased them.
Purchase protection works only if you have original receipts and other documents, including a police report. McQuay says that coverage can vary based on the card issuer, the purchase and the nature of the damage. "You'll need to speak with your bank to determine the exact level of coverage for the given item," he says. "So it can be super useful, but there are a certain number of hoops you need to jump through to make this apply."
4. Rental car insurance. Next time you rent a car, you can decline the costly collision damage waiver if you use a card that offers this coverage. This benefit covers damage to the vehicle over and above what's paid by your own auto insurance policy. Some exclusions apply, so be sure to check with your card company.
For this insurance to take effect, you must decline the rental car insurance and pay for the rental with a credit card that offers the insurance. Keep in mind that the credit card collision damage waiver isn't a substitute for your own primary liability insurance policy.
Laura McMullen is a staff writer at NerdWallet. Email: lmcmullen@nerdwallet.com. Twitter: @lauraemcmullen.