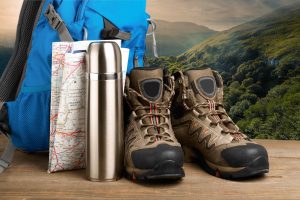 Camping is a frugal vacation, cheaper than spending money on hotels and eating in restaurants, certainly. But if you're not careful, camping comes with hefty start-up costs to sleep comfortably in the great outdoors and protect yourself from the elements.
Whether you've never gone camping or you're a seasoned pro at sleeping in the woods, here are 22 ideas to save money on camping this season.
1. Stick close to home to save money on gas. Punch your zip code into ReserveAmerica to find available campsites nearby. ReserveAmerica can also help you compare campsite costs for your selected dates. Clicking on a few of the options for sites near me (in Orange County, CA) showed a wide range, from $20-45 night.
2. Invite friends to share the cost of campsites, gas, and food. Check the details of your campground, but many tent campsites can accommodate 6-8 people comfortably in up to 3 tents. Even if you only split the site with one other couple, your costs are halved.
3. When camping in a group, assign group meals to one person or couple. It's not much harder to cook spaghetti for 6 than for 2 or 3; it saves money and space on ingredients, and it means everyone gets the luxury of enjoying someone else's cooking part of the time!
4. Plan your menu and pack foods before you go, to avoid paying small-town convenience store prices. Bring spices and condiments in small plastic bags or old film containers. Let me know in the comments below if you have a modern substitute for film containers, which can be hard to find now.
5. Bring a separate cooler for drinks and foods. The drinks cooler will be opened more often, so this saves money on the ice needed to keep your foods cold in the second cooler.
6. To save further on ice, use block ice rather than cubed. It stays frozen longer.
7. Freeze meats and other cold foods at home before you go; they'll stay cool longer and act as secondary ice blocks.
8. Shop in the bulk food section for dehydrated items (beans, fruits), and mix with water or cook on your trip to avoid paying for fancy pre-made camping meals. You can also usually find granola or trail mix in the bulk section for snacks.
9. Consider substituting couscous for rice in menu planning. While rice takes 20-30 minutes to cook on the stove, couscous cooks up in 5 minutes off the burner, saving fuel costs for your camp stove. And as an added bonus, couscous cleans out of the pan in no time! Take that, sticky rice!
10. Retail price is definitely for suckers when it comes to camping gear. Before you pay full price, check out discount gear websites like the REI Outlet, Campmor, or GearTrade.
11. Better yet, don't buy new gear! Scour local garage sales, Craigslist, or eBay for gently used camping gear, or borrow from friends. For durable items (cooking gear, backpacks, sleeping pads), don't worry if they've been in someone's attic for a long time. When I'm car camping I still use items my parents camped with in the 60s! Just test the item first if possible. Track down the next date for an REI used gear sale, where you can save 20-80% off gear that has been returned. You must be an REI member to shop at a gear sale; if you're not currently a member you can purchase a lifetime membership for $20 at checkout.
12. If you camp infrequently, consider renting gear such as tents, stoves, and sleeping bags. If your local outdoor store doesn't rent gear, they should know where to refer you to.
13. Use general equipment from home rather than buying a camping-specific version, particularly for car-camping where size and weight are less of an issue. Kitchen pots and pans, plastic coffee mugs, pillows and blankets, and tableware will easily do the trick.
14. Stock up on warm clothing at Goodwill. Skip the Patagonia fleece and pore through the racks for a good, thick wool sweater or pants. It will keep you just as warm and nobody cares if you match! Hats, socks, gloves, scarves, and fleece jackets are other common finds.
15. While you're at Goodwill, snag any cheap, lightweight kitchen items you can find: pots/pans, travel coffee mugs, knives, unbreakable plates.
16. Consider staying in a National Forest if you live or travel near one. While there can be fees for developed campsites (think picnic tables and bathrooms), you are allowed to camp or backpack FOR FREE anywhere in the forest as long as you follow established guidelines (including staying more than 300 feet away from trailheads and displaying an appropriate parking pass, if required). Call a ranger station in your local National Forest prior to camping to confirm the rules and requirements.
17. Besides National Forests, there are four other places where you can camp for free, though most of them are more remote than typical developed, car camping sites.
18. If your camping will take you there, consider purchasing a National Parks annual pass for $80. With fees up to $20 for entry, the pass can pay for itself in four trips. If you're 62 or older, a lifetime pass is just $10, purchased at the recreation site, or $20 through the mail. The Access pass for US citizens with disabilities is free. You will still need to pay for developed camping separately from entrance fees in national parks, where available, unless you are backpacking. The senior pass offers up to a 50% discount on camping and other park fees; check individual park for details.
19. Look into the KOA VKR (Value Kard Rewards) program if you'll be staying frequently. The $25 annual membership saves you 10% on every stay, lets you earn points toward future stays, and other perks (including 15% off gear purchased at Coleman.com).
20. Consider working in exchange for camping! Being a Workamper or Campsite Host allows you to stay for free (and sometimes earn a salary) while volunteering to help run or preserve the campground. Some programs are RV specific, others are not. Search for "campsite host" at campgrounds in your area or contact a park's ranger station to ask about programs and opportunities.
21. If you're new to camping or have young children, consider camping in your backyard. This is a great way to give camping a trial run, and if anything goes wrong, you can run inside.
22. And last, but definitely not least, bring duct tape! You'd be amazed at what you can fix with duct tape to avoid a costly drive to a costly store for a costly part. I've used it to patch tents and backpacks, keep wind out of zippers and sleeves, keep a sole on my shoe for 23 miles, prevent blisters, and even construct a makeshift spoon.
Have fun camping, and let us know your tips and tricks for saving money while camping!