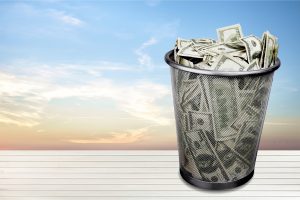 Everyone's budget is different, but we all have spending holes that can wreak havoc if we are not careful. Even the smallest expenses will add up! Here are 10 common ways people waste money. Are you guilty of any of them?
Bank fees – Just last week I wrote about a study that revealed some banks (and credit unions) are doing a crummy job of disclosing fees. If switching banks is not an option, learn to prevent bank fees.
Bottled water – Water is free. It's crazy to pay almost $2 a bottle. Instead invest in a water bottle and fill it up before you head out. I admit I've forgotten my Sigg bottle and have had to buy water. Ouch!
Failure to plan meals – Not being organized when it comes to preparing meals will cost you. Making a quick stop at a drive thru can be convenient, but you're wallet and waist will end up paying for it.
Wasting electricity – Unplug anything that you're not using — for example, cell phone chargers. Plugged appliances that are not in use still suck up energy. This is know as vampire power. I walk around my home every night turning off lights behind everyone and we've seen our bill shrink. It also doesn't hurt that we use florescent bulbs.
Rental fees – There's no point in renting from the library for free and then paying late fees. Same goes with movie rentals.
Unhealthy habits – Smoking, drinking and gambling are all perfect examples of bad habits in which you choose to trade short term pleasure for long term debt and discomfort. Excessive smoking and drinking will also deteriorate your health and you'll end up paying for these habits.
Turning down free money – If you have a 401k and are not maxing it out so your employer can match your contributions, you're passing on a good deal. I mean, really, how many people are willing to give you free money?
Big birthday bashes – Maybe I've just seen one too many commercials for MTV's reality show My Sweet Sixteen (on Hulu), but throwing a lavish party is such a waste of money. There are frugal ways to celebrate a birthday without breaking the bank. Intimate and small parties can be inexpensive and just as fun.
Repair expenses – If you run out and buy a new item every time something needs to be repaired, you're wasting money. My family motto: "It isn't broken until you can't fix it anymore."
Keep in mind that being too frugal can also cost you money in the long run. It's all about balance.