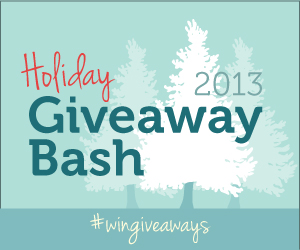 Look out for TEN prize giveaways next week starting Monday, November 18, 2013. Each prize is worth $75 or more, and we have some awesome stuff to giveaway. Once the giveaways launch, you can find all the giveaways to enter on our 2013 Holiday Bash Giveaways page.
Here are the prizes we have lined up:
DVDs and CDS of Christmas music from Veggie Tales
$100 gift card to Dayspring
10 stylish reusable bags from Omnisax by Envirosax
$100 gift card to Tupperware
Iron Man RC Extreme Hero (a remote control flying toy)
Hollywood Fashion Secrets products (about a dozen of 'em!)
$75 of teeth whitening gear from SmileBrilliant
Monster Truck Kit, Magic Prank Kit, and a GeoMag magnetic toy from Reeves Toys
Gift basket with kitchen cleaning supplies from Formula 409
Sensor Nighty Night and Twilight Turtle from Cloud B
There will be a post for each giveaway, with details on how to enter to win each giveaway. Stay tuned and get your fingers reader to tap away each entry. If you aren't already on Twitter, Facebook, and Pinterest, join now to get the most entry options!
I'm planning on wrapping a lot of these items as gifts for Christmas! There's presents for my niece and nephews, and gifts for friends and other family. What's better than crossing off a few names on your list without shelling out big bucks! Best of all, I know they're really going to enjoy these toys and gifts.
Starting Monday, find all the giveaways to enter on our 2013 Holiday Bash Giveaways page. Good luck!!!